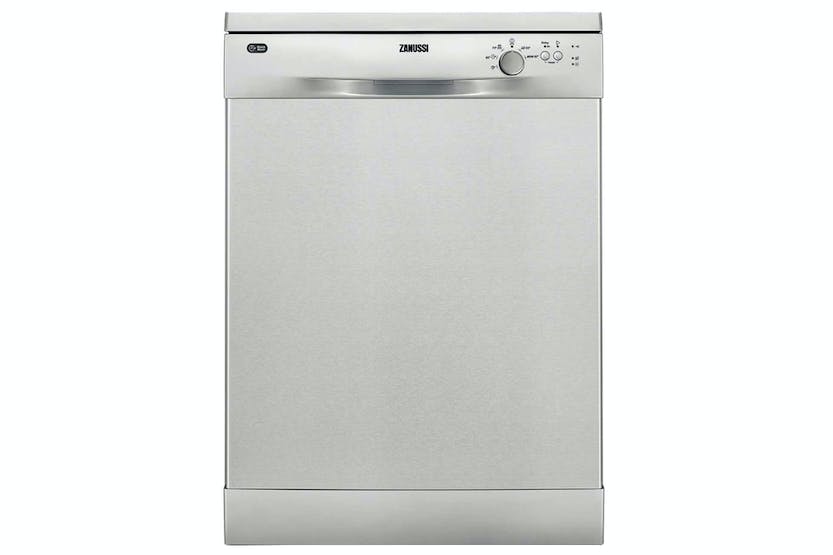 Zanussi 13 Place Settings Freestanding Dishwasher - Stainless Steel ZDF22002XA
AirDry technology will dry your dishes with natural airflows. The door opens up in last part of the program so dishes are clean and dry ready for unloading. Gone are the pesky droplets that always remained on crockery.
An Intensive Programme for Conveniently Clean
The intensive programme in our dishwasher uses a powerful 70°C jet of water to easily remove even the most stubborn residue. Cleaning all your dishes thoroughly so they're ready to use again straight from a cycle.
30 Minute Quick Wash
This unique specially designed programme is perfect for people on the go. It washes all the freshly soiled crockery from an evening meal for a family of four in just 30 minutes and with a temperature of 65'C, you still get an 'A' rated wash performance.
Completely Clean at a Time that Suits You
Programme the dishwasher cycle to start three hours ahead with the delay function. It's a convenient way of cleaning and unloading dishes when you've got the time or energy. And it also means that you can take advantage of off-peak rates, or run a programme when hot water isn't required elsewhere.
Capacity: 13 Place Settings
Capacity is based on 'IEC' standard place settings. This standard allows you to compare the capacity of dishwashers using a common measure.
Technical Features:
Double Hinges: Normal
Cord Length: 1.5
Number of programmes: 5
Number of Temperatures: 3
Door Colour: Stainless steel
Anti-flood Device: Floating switch
Spray arm: Standard
Dishwasher programs: Eco 50°, Intensive 70°, Normal 65°, Quick Wash 65°, Rinse & Hold
Airborne acoustical noise emissions (EU 2017/1369): 49
Maximum number of place settings (EU 2017/1369): 13
Energy Efficiency Class (Regulation (EU) 2017/1369): F
Weighted energy consumption in kWh per 100 washing cycles of eco 40-60 programme (EU 2017/1369): 104
The water consumption of the eco programme in liters per cycle (EU 2017/1369): 11
Cleaning performance index: 1.121
Drying Performance Index: 1.061
Product Features:
49 dB(A) noise level
Height adjustable upper basket
Foldable cup shelves
Salt & rinse aid indicators: Reminder to refill the salt and rinse aid
Normal 65°C wash: Ideal for a mixed load (e.g. plates, pans and crockery).
Rinse and hold
11 litres water consumption
Drying system: Air dry technology
Water supply: Cold or hot