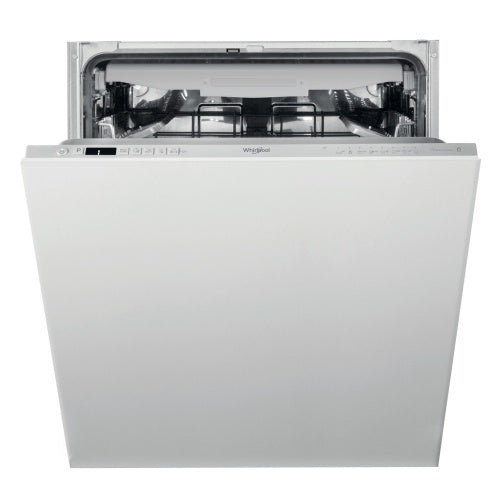 Whirlpool WIC3C33PFEUK 6th Sense Built in Dishwasher
The 
Whirlpool WIC3C33PFE 6th Sense Built-in Dishwasher has Innovative technology, special features and user-friendly controls for optimal cleaning and drying results, reduced cleaning effort, and ease-of-use through automatic settings.
POWERCLEAN PRO
Powerful water jets on the rear of the machine work to deliver supreme cleaning results on the toughest soil.
The intelligent sensors detect the level of dirt and adapt the water pressure accordingly.
MODULAR THIRD RACK
The third rack is perfect for accommodating cutlery and utensils and is equipped with sliding modules that allow to easily load higher items on the upper rack.
6TH SENSE TECHNOLOGY
No prewash required.
6th SENSE technology provides perfect washing results with no pre-washing, soaking or scrubbing by hand, while effectively reducing water consumption and costs.
NATURALDRY
The automatic door opening at the end of the program ensures better and more natural drying. This system guarantees higher energy efficiency and better drying results.
START DELAY
Tailored for you.
The Start Delay option allows you to set the Dishwasher to begin its cycle whenever most convenient for you, saving you both time and energy.
ECOFRIENDLY
Extraordinary savings.
6th SENSE EcoFriendly technology features intelligent sensors to continuously monitor the wash cycle and detect the level of soiling, adjusting resources accordingly. Enjoy ideal cleaning results and save up to 50% energy, water and time.*
(* Comparison between minimum and maximum consumption on the 6th SENSE programs.)


Product Specification:
Fixed hinge door fitment

Capacity 14 place settings

ActiveDry – Auto open door

Delay timer 1 to 12 hours

6th Sense technology

8 wash programmes

Half load option

Cutlery tray on third level

Salt and rinse aid refill indicators

Noise level: 43db

Energy rating D

Wash performance D

Drying performance D

Annual energy consumption: 238 kwh

Annual water consumption: 2660 litres

Adjustable feet

Dimensions: h820 x w598 x d560mm