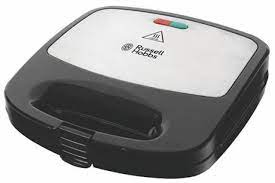 Russell Hobbs 3-in-1 Combi Sandwich Maker | 24540 | Black 24540
3-in-1 Combi Sandwich Maker
This Sandwich Maker is a versatile appliance that can cook you up a variety of tasty treats. With 3 removable grill plates including a waffle plate, toastie plate and grill plate you can easily swap between them all for easy and fuss-free cooking. Whether you're decorating waffles in endless topping with your little ones, grilling some bacon for your breakfast or even toasting a cheesy golden toasty for a lunchtime snack – the 3 in 1 Deep Fill Sandwich Maker can do it all. So if you're a food fanatic who loves a variety of different foods but doesn't have the cupboard space for endless appliances, you'll love the 3 in 1 Deep Fill Sandwich Maker.
Easy Clean
After enjoying a delicious tasting and filling toastie or stack of waffles, the last thing anyone feels like doing is scrubbing away at the grill plates to get them clean. That's why we've designed our 3 in 1 Deep Fill Sandwich Maker to be easy to clean with non-stick plates that can be easily wiped down after use or put straight in the dishwasher.
Deep Fill Plates
Whether your craving a tasty tuna melt or a classic breakfast toastie packed with cheese and ham – you can do it all with the 3 in 1 Deep Fill Sandwich Maker. You can now enjoy the freedom of filling up your toasties with a hearty amount without the worry of it seeping out the sides.
Thermo-Insulated Handle
The Thermo-insulated handle means your sandwich, waffles, or grilled delights may be piping hot, but the 3-in-1 combi sandwich maker itself will never be too hot to handle.
Removable Plates
The 3 in 1 Deep Fill Sandwich Maker comes with removable plates perfect for catering to your every need. Whether you fancy a toasted sandwich, some waffles or even some grilled chicken for your caesar salad – you can cook it all with this one appliance.
Product Features:
Waffle plate
Panini plate
Cord storage
Non slip feet
Overheating protection
Dishwasher safe parts
Handle with locking clip
Easy to clean non-stick coating