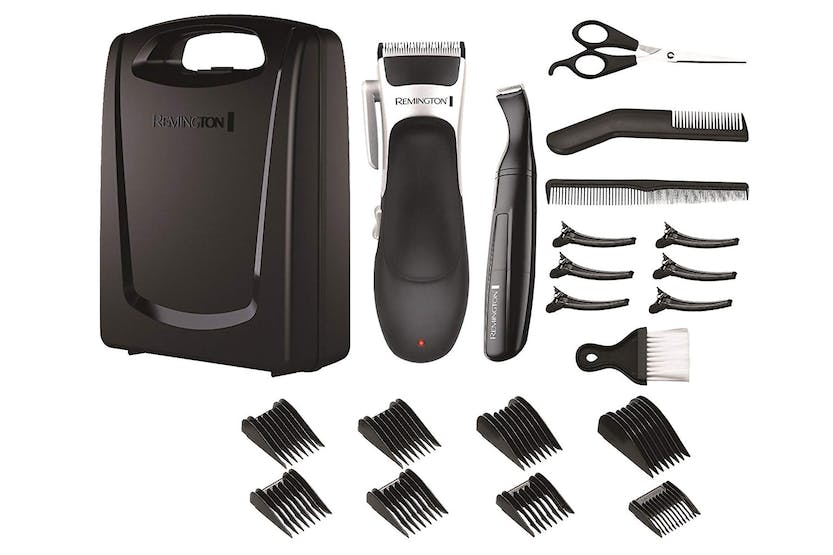 Remington Stylist Hair Clipper | HC366
Stylist Hair Clipper
Too many high maintenance factors already in your life? Then breathe a sigh of relief because staying ahead in the style stakes has just got easier thanks to the Remington Stylist HC366 Ceramic Hair Clipper. Keeping your hair trim and looking tip-top becomes a real pleasure and never a chore with this fantastic tool.
The Remington Stylist is a go anywhere do-It-yourself cordless clipper. For a no-nonsense, great result every time, this one stop "barbers'-in-a-bag" kit contains everything you need offering real substance.
Inside a stylish, black storage case comes with no less than 15 tools with everything to help you manage your hair effortlessly anywhere. There are 6 sectioning clips, a pair of scissors, a hair comb and 6 attachment combs ranging in length from 3mm – 25mm.
You'll also find a neck brush, a cleaning brush and a handy booklet with useful advice and hints on styling. What's more, a detail trimmer makes short work of detailed cutting, ideal for tidying up sideburns, neck-line and it will even neaten moustaches.
You'vVe Got the Look, Sorted
Portable and convenient, you decide whether you want it corded or cordless – and if you're travelling overseas and want a quick tidy trim to hand, there's no need to pack a travel adapter as these clippers offer up to 40 minutes of cordless usage.
Quality Features to Get Your Look
Outstanding quality is at the forefront of this clipper. With advanced-ceramic coated blades to give you fast, uncompromising results whatever your hair type, and with a no maintenance self-oiling blades, this hair clipper is built to be long-lasting.
Includes:
25 piece accessory total kit
1 x Clipper
1 x Detail Trimmer
6 x Sectioning clips
1 x Scissors
6 x Attachment combs (3mm-25mm)
1 x Comb
1 x Neck Brush
1 x Cleaning brush
1 x Storage box
Product Features:
Self-oiling blades means no maintenance
Rechargeable