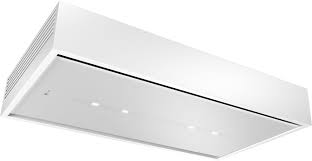 NEFF N70, CEILING COOKER HOOD, 105 CM, WHITE I14RBQ8W0
The Plug&Play ceiling ventilation: for a simple and space-saving solution, with perfect installation in open plan kitchens.
Cooktop-based Hood Control – Adjust your hood´s extraction level and lighting.
Dimmer Function – dim the LED light conveniently with the button on the remote control
Remote Control – comfortably control the ceiling hood with a remote
Efficient Drive Motor – Quiet and energy-efficient hood motor for a calmer kitchen.
Intensive speed setting: increases the extraction rate when the steam gets intense
COOKTOP-BASED HOOD CONTROL
Hood adjustment at your fingertips.

More cooking comfort for your kitchen. Our Cooktop-based Hood Control lets you set different extraction levels and adjust the hood's lighting via your hob. This extra touch of convenience keeps your hands free to cook – and keeps your focus on your cooking space.
DIMMER FUNCTION
Dimmer Function
Enjoyment of cooking and eating is influenced by all our senses, not just smell and taste. Via remote control the dimmer function lets you set the tone in your kitchen to make sure the atmosphere is just right for the experience you want to create.
REMOTE CONTROL
Remote Control

Up on the ceiling, your hood stays out of your way so you can concentrate on cooking – but with the remote control, it's never too far away to make adjustments to the extraction rate and lighting easily and intuitively.
EFFICIENT DRIVE MOTOR
Quiet and calm in the kitchen.

Our Efficient Drive motor brings harmony to the kitchen. It's whisper-quiet and powerful too. Now you can focus on your cooking, and your guests, while your extractor keeps your kitchen calm, clean and serene.
INTERVAL VENTILATION
Interval Ventilation
Kitchen aromas such as frying onions or freshly baked cakes are half the enjoyment of cooking. But mixing too many smells can overwhelm the senses, so it's not a bad idea to freshen everything up once in a while. With Interval Ventilation, the hood runs briefly from time to time to make space for new, intriguing aromas or simply crisp, clean air.