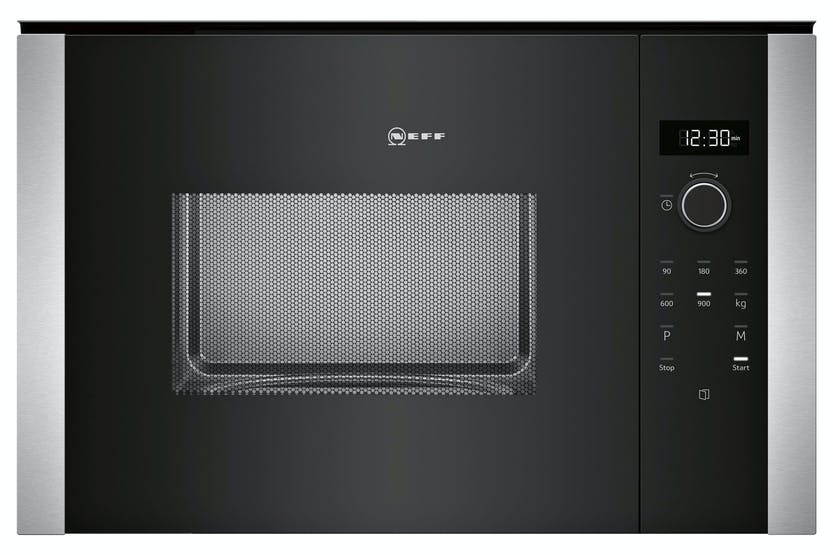 NEFF HLAWD53N0B 25L BUILT-IN MICROWAVE
A must for any household - a built-in microwave designed to coordinate with N50 ovens. Side-opening hinged door - A smart twist for the elevated installation. Control Dials & One-Touch Buttons – select the right programme using your intuition LED-Display - simple, straightforward for clear reading Automatic programmes - Your kitchen helper with just the right default settings. LED lights - Bright illumination exactly where you need it.
Always in service and yet out of sight, Neff microwave oven for your 38cm wall cabinet. Automatic programmes keeps your kitchen helper with just the right default settings. It comes with LED lights where the bright illumination exactly you need it. It has special function to quickly and easily select the required options using the touch key controls.
LED-Display: For Clear Reading
Simple, straightforward. That's our LED Display for clear reading. You can see from afar if your lasagne is bubbling at the right temperature, or check how much time has passed. And with the appliance controls, it's easy to access all functions.
Automatic Programmes: Enjoy the Easiness of Cooking at your Command
Not quite sure how long to cook your sponge cake, roast beef, or lasagna? With our Automatic Programmes many dishes are at your fingertips. Simply select your dish, confirm and press start, the oven will do the rest. A convenience that makes baking all the sweeter.
Design:
LED display, white
Electronic clock timer
Left hinged door
31.5 cm Glass turntable
stainless steel cavity interior
Bevelled oval controls, Retractable controls dials, Touch control, round, Start button
Programm and Function:
90-180-360-600-900 Watts and the following options: 180 W, 360 W, 600 W, 90 W, 900 W
Number of automatic programmes: 7 PC
4 defrost and 3 cooking programmes in microwave function
Type of control setting devices: Retractable, Rotary knob, round, Start button, Touch Control
Programm and Technical Information:
Cavity volume: 25 l
130 cm Cable length
Total connected load electric: 1.45 KW
Nominal voltage: 230 - 240 V
Please refer to the dimensions provided in the installation manual
Product Features:
Type of control: Electronic
Automatic safety switch off
Door contact switch
LED light
Cooling fan
Memory function
Open button, electronic
Control dials & one touch buttons select the right programme using your intuition
LED display simple, straightforward for clear reading
Automatic programmes your kitchen helper with just the right default settings
LED lights bright illumination exactly where you need it