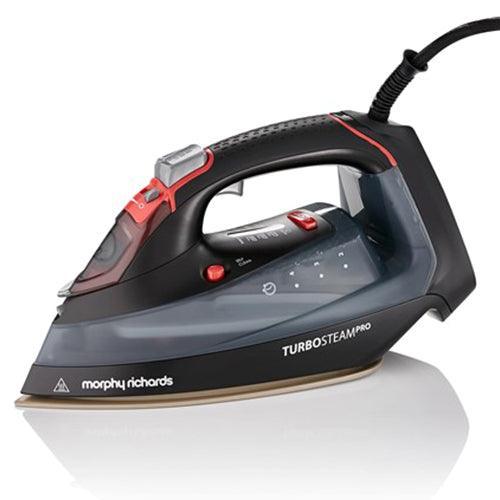 Morphy Richards 3100W Turbostream Pro Steam Iron | 303175
MORPHY RICHARDS 3100W TURBOSTREAM PRO STEAM IRON | 303175
The new Turbosteam range is our most powerful yet.
STEAM BOOST
The Turbosteam Digital comes with a powerful 200g/min steam boost, for those creases that just won't shift on a standard setting. The steam boost also helps to remove creases from thicker, stiffer fabric.
PRISTINE FINISH SOLEPLATE
The Turbosteam's pristine finish ceramic soleplate means that the iron effortlessly glides over fabric, and maintains their condition, keeping them like new for longer.
AUTO SHUT-OFF
We all know the feeling, 'Did I remember to turn the iron off?' The extra safe Auto Shut-Off feature detects when the iron has been left turned on but not used, and will automatically turn the iron off after 8 minutes of disuse.
QUICK HEAT UP
The Turbosteam Digital is ready to use in an impressively quick 40 seconds thanks to the 3100 watt power, saving you valuable time waiting around.
EXTRA LONG CABLE
We have given the Turbosteam Digital iron an extra-long three metre cable, allowing you improved reach and convenience when ironing. This is especially useful for bedding and curtains!
LARGE, EASY VIEW WINDOW
The water tank has a generous 380ml capacity, meaning less refilling is needed while you're ironing. We have also included water level indicators on the easy-view window that tell you how much steam time is left in minutes - so you always know when you are due to need a top-up.