By

Miele
Miele 8kg Freestanding Washing Machine | WED025
Regular price
$1,213.00
Sale price
$1,158.00
Unit price
per
-$55.00
Couldn't load pickup availability
Availability:
Low stock: 1 left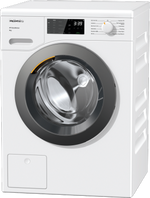 Regular price
$1,213.00
Sale price
$1,158.00
Pre-Ironing
50 % less need for ironing smoothing after a wash programme. With the pre-ironing option, you can reduce the need for ironing by up to 50 %. At the end of the wash programme, a smoothing programme completes the process. During this, laundry is tumbled inside the moist, warm drum, which has a smoothing effect.
Capdosing
Easy & sustainable: optimum dispensing of special detergents, fabric conditioners & additives with CapDosing. Miele's single-use capsules are a solution for special types of laundry. Made from 100 % recycled plastic, they go into the fabric conditioner compartment. The content of a capsule is perfect for a single wash cycle there is no risk of adding too much or too little detergent. There are 6 special-purpose detergents to choose from, plus 3 fabric conditioners, the ImpraProtect proofing agent, Booster for stubborn soiling and CottonRepair.
Profieco Motor
Powerful and economical: our ProfiEco motors with inverter drive ensure wear-free, quiet, energy-saving operation. The ProfiEco motor from Miele is a particularly powerful inverter drive and is also extremely economical and quiet. As the motor is electronically controlled, it does not require carbon brushes, which means it has no wear. For many years of efficient and convenient laundry care.
Automatic Load Recognition
Intelligent adjustment: low load, less water and electricity consumption. Fully automatically. All Miele washing machines feature intelligent automatic load recognition. This feature analyses the current load and uses only the amount of water and electricity needed for excellent cleaning and rinsing results.
Honeycomb Drum
Gentle care: the hexagonal sculptured surface of the drum allows garments to glide on a thin film of water. The web-like surface structure of the Miele honeycomb drum creates a thin film of water between the drum and the laundry. This results in laundry gliding gently and protects the fibres perfectly. The smaller, smoothly polished shouldered holes in the walls of the drum are also gentle on your textiles and prevent pilling and laddering. Foreign objects such as paper clips no longer end up in the drain pump.
Tested For The Equivalent Of 20 Years Use
Some car engines are subjected to 3000 hours of tests, but we test continuous performance for up to 10,000 hours.[2] While some car engines are subjected to 3000 hours of tests, we test continuous performance for up to 10,000 hours.[1] Day and night. Comprehensive and precise. So we can guarantee you outstanding results for years and years.
Water Control System (Wcs)
Everything dry: WCS monitors the water intake, detects leakages and water in the drip tray. The Water Control System (WCS) monitors the water intake with a water level sensor. Water intake is stopped automatically if the normal water level is not reached. If there is water leakage inside the machine, the inlet valve inside the machine closes and water in the suds container is pumped away. A float switch in the drip tray also detects leaking water.
Water Protection Guarantee
Peace of mind: Miele will bear the cost for prop. damage resulting fr. a defective water prot. system - 20 years. Miele provides protection for your home for all Miele water protection systems - for appliances used for the equivalent of 20 years. Should you incur damage to property as a result of a defect in the water protection system, you have a safety guarantee2. In the context of the terms and conditions of the water protection system Miele will bear the costs for property damage resulting from any defect of the system. so long as the appliance was professionally installed.
Delay Start And Countdown Indicator
According to schedule: You can start the programme whenever you want to fit in with your daily schedule. The delay start feature allows you to determine when you want the next wash programme to start. This is particularly advantageous if you want to use nighttime electricity tariffs or if the programme needs to be finished at a certain time, for instance when you come home from work. You can postpone the start of a programme by up to 24 hours. The display also indicates when the current programme will finish.
Addload
Enjoy maximum convenience: you can conveniently add or remove laundry items even after the programme has started. Whether it's a pair of jeans, a blouse or just a sock: thanks to the AddLoad function, you can easily add any laundry items that you've forgotten up until shortly before the end of the programme. This means you can add or remove items just for rinsing or spinning. Operation is easy: press the "Start / Add laundry" button and the door unlocks at the touch of a button. If your appliance is networked, AddLoad is indicated in the app or by Alexa.
Woollens
No shrinkage, no felting: Delicate wool fabrics are cared for particularly gently, maintaining their quality.
Outerwear
Best care without the loss of function: High-quality outdoor textiles retain their functionality in any weather.
Delicates
Gentle & soft: with the special programme synthetic textiles stay beautiful & keep their shape.
Shirts
Prevents creasing: reduces creasing and simplifies the ironing of shirts and blouses significantly.
Express 20
Quickly freshened up: lightly soiled and small laundry quantities are quickly ready for use again.
Proofing
Best possible effect: Thermally fixing ensures optimum water-repellent properties.
Design 
Appliance colour: Lotus white
Control panel colour: Lotus white
Door design: Graphite grey PearlFinish
Rotary selector colour: Lotus White
Control panel version: Straight
Control type: Rotary selector
Display: DirectSensor white, 7 segment
User convenience 
Delay start up to 24 hours
Time left display
AutoClean detergent drawer
AddLoad
Technical Specfication
Energy efficiency class (A - G): A
Weighted energy consumption per 100 operating cycles for the wash cycle in 47 kWh
Weighted water consumption per cycle in 47 l
Spin efficiency class: B
Acoustic airborne noise emission class (spin cycle): A
Sound emissions during spin cycle in dB(A) re 1 pW: 72
Duration of the ECO 40 60 programme at nominal capacity: 219
Power rating in off mode in 0,30 W
Low temperature wash "Cold" and "20 °C"
Automatic load control
Flow meter
Foam sensing
ProfiEco motor
Appliance depth in mm with opened door: 1.054
Appliance depth excluding door (for building-under) in 600 mm
Total rated load in 2,10-2,40 kW
Length of supply lead in 2 m
Wash programmes
Cottons (coloureds)
Minimum iron
Delicates
Shirts
Woollens (hand-washable)
Express 20
Dark garments / Denim
Outerwear
Proofing
Separate rinse/Starch
Drain / Spin
ECO 40-60
Safety
Water control system
PIN code lock
Optical interface
Product Features
Gentle laundry care thanks to the Miele honeycomb drum 
Freshen up laundry quickly with the Express 20 programme
Perfect supplement for specific applications  CapDosing
Easy operation via sensor controls EasyControl 
Economical, powerful and no wear and tear the ProfiEco Motor
Rinse hold
CapDosing
Honeycomb drum
Extra: Short, Pre-wash, Water plus, Additional rinse cycle, Pre-ironing
Suds container: GlaronK
Choosing a selection results in a full page refresh.
Your cart
Recommendations