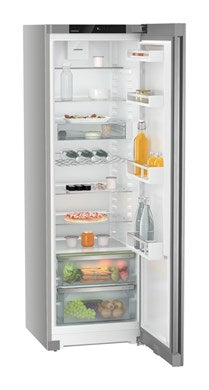 LIEBHERR FRIDGE SRsfe 5220 Plus
Included in this price is a recycling charge of €5
Exterior dimensions: height/width/depth
185.5 / 59.7 / 67.5 cm
Connectivity solution
retrofittable
EasyFresh
The guarantee of market freshness in the home is our EasyFresh-Safe. Whether it's unpackaged vegetables or fruit, this ensures optimal storage for everything. Thanks to the air-tight closure, the food causes the humidity in the safe to rise. This keeps the food fresh for a long time.
Retrofitable SmartDeviceBox
Want to be prepared for the future of the Smart Home? Your Liebherr will be happy to help. You can retrofit it with a SmartDeviceBox which will connect your Liebherr to the Internet. The SmartDeviceBox can be installed in just a few steps and will open up the whole world of digital possibilities to you today.
Touch display
Fingertip control: the touch display enables easy and intuitive operation of your Liebherr. All functions are clearly arranged on the display. By gently tapping a finger, for example, you can easily select the functions or check the current temperature of your refrigerator.
SteelFinish
Do you love cool elegance in your kitchen? If yes, then a Liebherr with a SteelFinish surface is just for you. The colaminate material with vertical brush effect looks very similar to stainless steel, is robust and easy to clean. The painted silver-coloured side walls complement the elegant look perfectly.
Recessed grip
Special and functional: You can open the appliance very easily using the vertically integrated and ergonomically fitted handle. Additionally, the modern and puristic design fits perfectly into your hands-free kitchen.
InteriorFit
Complete the purest design for your kitchen: Our refrigerators fit perfectly into a 60 cm deep niche: Leaving only the door protruding in a defined manner, ensuring optimum access to the recessed grip and lever handle. In this way, the focus is always on your kitchen – with your Liebherr as the focal point and highlight.