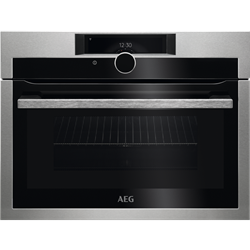 AEG Built-in Single Compact Oven | KME968000M
A succulent roast chicken, a creamy Dauphinoise, a rich beef casserole all achieved in just half the time a conventional oven would require. The Combi Quick oven is the faster way to exceptional flavours and exciting dishes, combining hot air fan cooking with the speed of a microwave to give you the mouthwatering finish and textures of a conventional oven in one compact space. From now on, time is no longer an obstacle to taste.
Microwave-Grill Combination, Fast Cooking with a Crisp Finish
Combine the power of a grill and the efficiency of a microwave, with Fast Cooking. Melt mozzarella-topped toasties, or harden a crème brûlée's sugared lid, all in the microwave. Versatile cooking, mastered.
Connected Cooking for More Control in the Kitchen
Get your own personal assistant in the kitchen with Connected Cooking. Control the settings of your oven including timing and temperature from your mobile device. Get recipe inspiration and preparation tips. Or use it to check the progress of your dishes from another room.
Fast Heat-Up Time, to Get You Cooking Quickly
Superior and quick cooking results - this oven heats up fast, giving you more time to enjoy the meal with your family and friends.
Command Your Cooking
With the responsive Command Wheel you have complete control over the cooking process, whether adjusting the time, temperature or function of your oven. With just a touch, your current cooking settings appear immediately on the clear colour LCD display for at-a-glance monitoring of your meal, making adjustments exact and precise. The assisted cooking function means you can select specific foods for professional results every time. Without other buttons creating a busy dashboard, the Command Wheel makes it simple and streamlined for perfection on a plate, every time.
A Quicker Way to Toast and Crisp
This highly efficient grill takes less time than traditional ovens, and will toast, crisp or brown your dishes to precision.
Cooked Evenly Everywhere
With this oven, using energy efficiently also means cooking efficiently. It has a new convection system called Hot Air, which ensures hot air circulates evenly throughout the oven cavity. The result is that the oven heats up faster and cooking temperatures can be reduced by up to 20%, saving you both time and energy.
Excite+ TFT Display with Command Wheel, Precision Cooking
With the EXCite+ TFT Display with Command Wheel you can precisely and easily control the oven heat, browse programmes, choose functions and even get oven software updates via WiFi. All at the twist of a dial and displayed on the digital screen.
Functional, Integrated, Personalised, Smart Kitchen
Remotely manage your oven, explore our various partners, and even get personalised cooking assistance, all via the My AEG Kitchen App. It's the convenient and easy way to enrich your Smart Kitchen experience.
Electronic Touch Controls
Electronic touch controls for easy use.
43 litre Oven Capacity
More room for your cooking thanks to its large oven capacity.
Diamond-Glazed Enamel Interior
A smooth enamel interior for ease of cleaning, cooking residues can be easily wiped away immediately after cooking.
Isofront Plus Triple Glazed Door
Isofront plus triple glazed door. Multi-layered glass panes, with heat reflective coating to keep the heat in the oven.
Fan Controlled Defrosting
Suitable for delicate items such as cream cakes, this light defrost circulates room temperature air around the food slowly, defrosting it hygienically in less than 1/2 the time.
Anti-Fingerprint Stainless Steel
This stylish finish takes the elegance and lustre of stainless steel one stage further, eliminating unsightly finger prints and ensuring your oven looks effortlessly clean.
LED Digital Display
Clear information at a glance with the LED display1000W microwave power.
Microwave
Designed to combine outstanding performance with optimum user friendliness and cooking flexibility.
Conventional Cooking
Heat from the top and bottom elements provide traditional cooking with zones heat. Ideal for baking bread and cakes, as the oven becomes hotter at the top.
Top Heat Browning
Heat from the top element only, ideal for browning lasagne or shepherd's pie.
Base Heat Finishing
Heat from the bottom element only. Perfect for reheating pies and pastries as it keeps the pastry crisp. It can also be used on warm plates.
Child Lock for Added Safety
Oven controls can be locked to prevent misuse, providing safety and peace of mind.
Product Features:
LED digital display
Conventional cooking
Base heat finishing
Fan controlled defrosting
Electronic touch controls
Child lock for added safety
Diamond-glazed enamel interior
Maximum microwave output (W): 1000
Cavity coating: Grey enamel
Cord length: 1.5