Kenwood Titanium Chef Patissier XL Mixer | KWL900.004SI | Silver
Description
PRODUCT TOUR
Melt Ingredients as Well as Hearts
Adding a gentle heat to your mix can make all the difference to your results. With Titanium Chef Patissier XL's 7L EasyWarm bowl you can make delicious Swiss meringue, melt chocolate 33% faster than with a bain marie and reduce the proving time of doughs by a third.
Mess Free Measuring
In built EasyWeigh scales save time and reduce mess while baking, allowing you to weigh all your ingredients directly into the bowl as you go. They even work when using the optional attachments so you can weigh directly into your blender, food processor, or juicer when it is attached.
Check out the video:
Creativity at your Fingertips
With an intuitive 2.4" BakeAssist touchscreen, precise mixing control is at your fingertips. Everyday tasks can be completed with a single tap, with the addition of 6 Simple Touch presets including dough proving, chocolate melting, dough kneading, all in one cake, egg white whisking and Swiss meringue.
Baking 2 in 1
Many recipes call for more than one bowl and the Titanium Chef Patissier XL, comes with two. Nesting inside the 7L Easy Warm bowl, is a 5L mixing bowl, both of which fit the machine without any adjustments.The DuoBowl allows seamless baking, simply swap your bowl when required and carry on creating.
A designed-for-life dough mixer
All Kenwood Titanium Chef kitchen machines are designed to give lasting service, day in, day out. The all metal body, control dial and head lift lever, and high-grade stainless steel bowl tools give strength and durability, and the powerful, geared motor enables you to run a wide range of slow, medium and high speed attachments.
LightLift Head
With a convenient head release button, the Titanium Chef Patissier XL's LightLift head makes easy work of adding ingredients to your mix.
25+ Optional Attachments
Expand your creativtity with a huge range of over 25 optional attachments. Attaching to your Chef's high or slow speed hub, your machine can then belnd, slice, spiralize, shred, grate, slow juice.
BowlBright Light
Nestling in your mixer's head is patented BowlBright light. Proven in kitchens to be 14x brighter in bowl, it gives shadow less visibility for the perfect mix
App Inspiration
Download the Kenwood World App, powered by Drop for everyday inspiration. Experiment with new ingredients, flavours from around the world and discover hints and tips to get more from your Chef.
EasyClean Tools
Generations of bakers have fallen in love with Kenwood's iconic, versatile K-Beater. Included in pack as part of a set of three stainless steel baking tools, alongside a dough tool and whisk, plus a creaming beater, they can tackle any job and are dishwasher safe for easy cleaning.
Power When you Need it
With a digitally controlled 1400W Chef Motor, exclusive to Kenwood, you will never lose power at a critical recipe stage. Strong and durable, you can perfect the lightest sponge and mix the heaviest fruit cakes and doughs.
Capacities:
Bowl size (total): 7 litres & 5 litres
Capacity - cake: 2kg & 4kg
Capacity - dough: 564g & 2.56kg
Capacity - egg whites: 8 & 16
Capacity - flour for pastry: 500g & 910g
Includes
Creaming beater
Dough hook
Extra bowl
K-beater
Whisk
Product Features:
Electronic scales
Electronic speed control
Fold function
Planetary mixing
Timer function
Dishwasher safe parts
Splashguard
Recipe suggestions
Spatula
Total mixing action
Body material die cast metal
Bowl material stainless steel
Bowl tool material stainless steel
From the Manufacturer
Titanium Chef Patissier XL - KWL90.004SI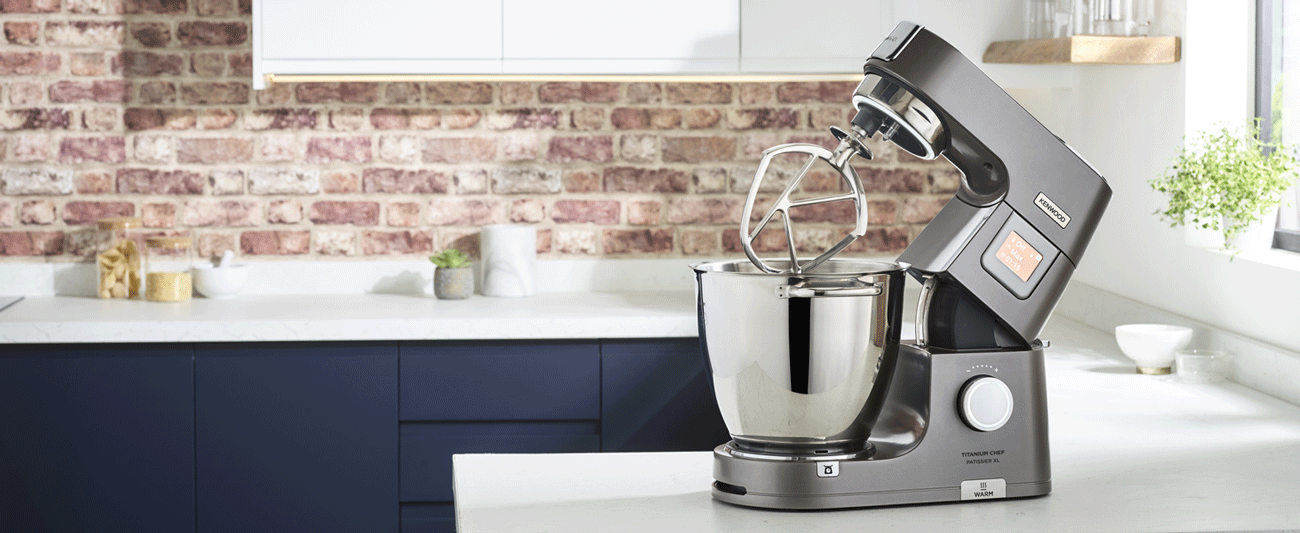 Titanium Chef Patissier XL - KWL90.004SI
Your Chef That Weighs and Warms
Introducing Kenwood's most technologically advanced mixer, the new Titanium Chef Patissier XL, providing you with unrivalled performance and innovative features.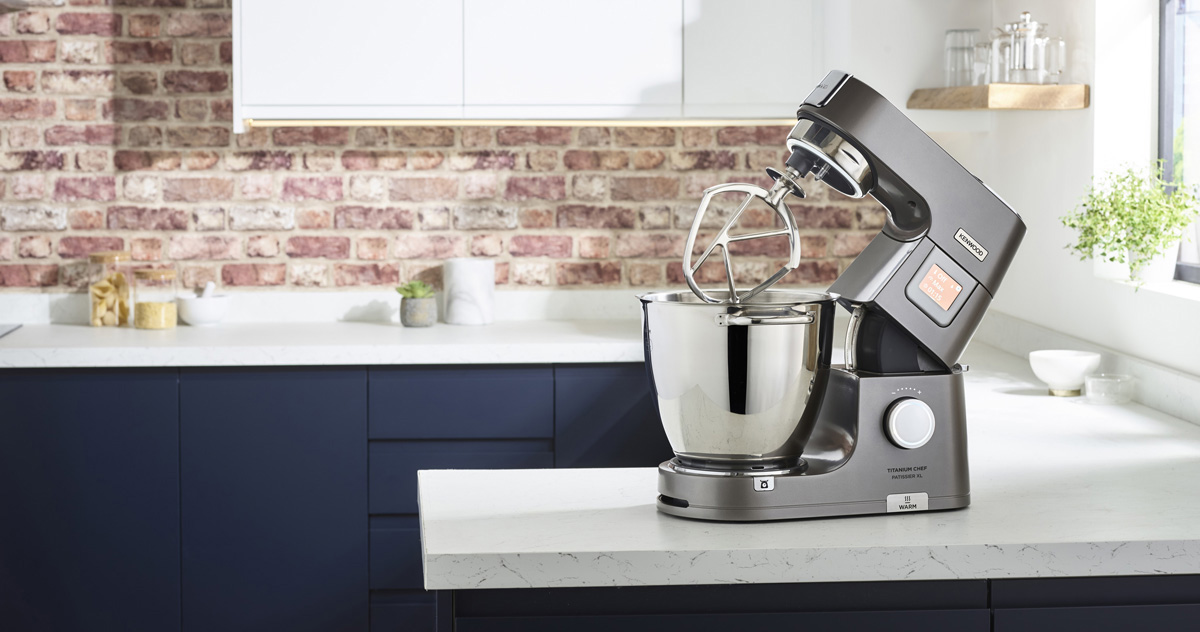 EasyWarm™ Bowl

Prove dough & melt ingredients saving a third of the time with the EasyWarm™ bowl.

EasyWeigh Scales

Weigh directly into the bowl with precise built-in scales, save time and reduce mess when baking.

BakeAssist™ 2.4" Screen

With clear, easy to use navigation, it's never been easier to get your best results in the kitchen.
Prev
Next
*33% faster with the same end results than an equivalent non warming bowl.
**Measured with a calibrated Lux Meter at Kenwood Labs.