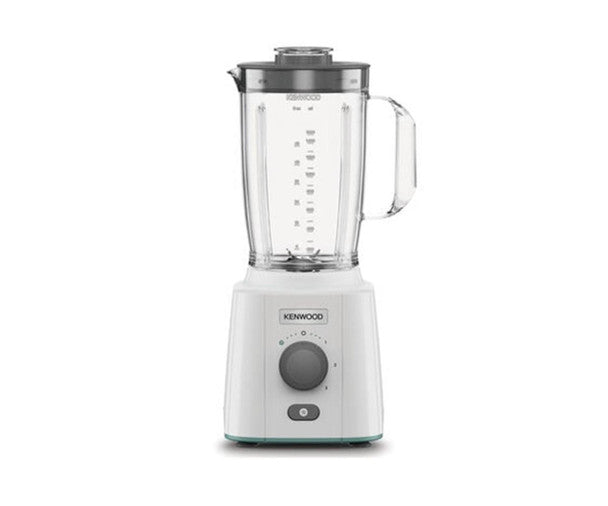 Kenwood Blend-X Fresh Blender White | BLP41.A0CT
Kenwood Blend-X Fresh Blender White
If you love to get creative in the kitchen, you'll love this Kenwood blender. It's ideal for creating all kinds of smoothies, soups, sauces and dips! With 3 speeds, pulse and ice crush, you can simply make your favourite recipes for your family and friends. The generous 2.0L goblet is perfect for larger portions, while the removable filler cap on the lid allows you to add ingredients while blending without a fuss. The strong stainless steel blades can even crush ice, which is perfect when you want to make smoothies and milkshakes.
Key Features:
Colour: Cream & Teal
Capacity: Large 2L goblet with 1.5L working capacity
Wattage: 650W
Speed: 3 Speeds + Pulse
Ice crush function: Yes
Detachable blade holder: Yes
Lid with removable filler cap: Yes
Dishwasher Safe: Yes
Rubber feet: Yes
Cord storage: Yes

Blend-X Fresh Blender BLP41.A0CT
FEATURES
Ice cold creations

With a dedicated ice crush function, you can be certain that your drinks are always refreshingly cold.

Adding is easy

The removable filler cap allows you to safely flavour and adjust your mix whilst blending. Ideal if adding more liquid, additional ingredients, or adding seasonings.

Easy clean

The removable stainless steel blade unit means this appliance is as easy to clean as it is to blend your creations.
Prev
Next
SPECIFICATIONS
blenders_and_spindle_drink_makers_capacity
Blender capacity (L):
2.0L
Blender working liquid capacity (L):
1.5L
blenders_and_spindle_drink_makers_generalspecifications
Weight (kg):
1.96
Blade material:
Stainless steel
Size (LxWxH) (cm):
42 x 19 x 17.5
Colour:
White
Body material:
Plastic
Speeds:
3 speeds + Pulse
Goblet material:
Calibrated plastic
Wattage (W):
650W
blenders_and_spindle_drink_makers_functions
Pre-set ice crush function:
TRUE
blenders_and_spindle_drink_makers_miscellaneous
Dishwasher safe parts:
TRUE
Cord storage:
TRUE
Safety interlock:
TRUE
Non slip feet:
TRUE