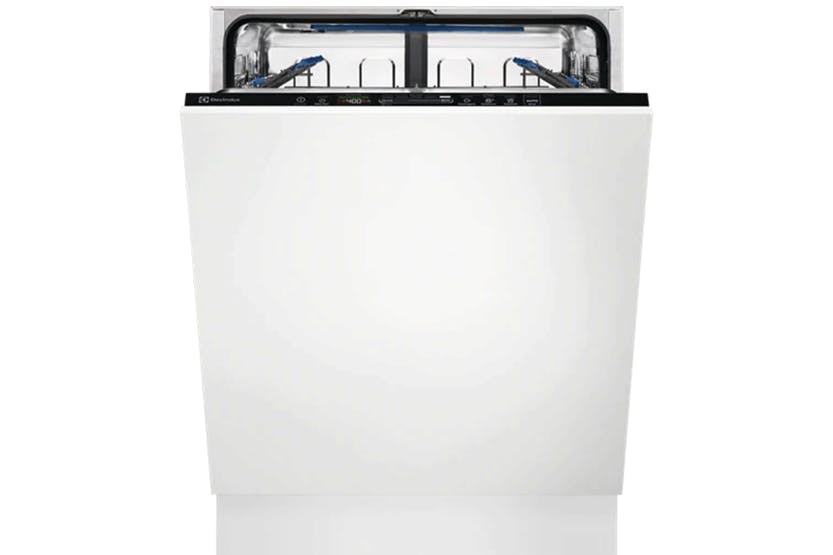 Electrolux Fully Integrated Dishwasher | 13 Place | KEQB7300L
QuickSelect
QuickSelect is the effortless way to start your tailored dishwashing cycle. Pick the cycle time with the slider and add any optional treatments with just a tap it's never been simpler. Then sit back and let the machine do the rest.
SoftGrips and SoftSpikes
With SoftGrips and SoftSpikes you no longer need to spend time handwashing delicate glasses. The soft material gently holds glasses securely in place and protects them from cracks and breakage.
Satellite Clean
Your dishes will come out spotless with SatelliteClean, performing up to three times better than the standard. Thanks to the double rotating arm that continuously changes the angle of the spray, even bulky items are deeply cleaned.
AirDry
The new AirDry technology uses natural airflow to finish drying, for up to three times better performance compared to closed-door systems. The door opens 10cm towards the end of the cycle, letting air circulate for superb drying results.
Perfect Fit
With PerfectFit Sliding Hinges, it's never been easier to install your new dishwasher. The hinges accommodate all niche machine heights and even remove the need to cut the plinth. You can be confident that your machine will fit into your kitchen perfectly.
Removes more than 99,9999% of bacteria and viruses
The ExtraHygiene function gives you maximum cleaning performance with hygienic care. With the ExtraHygiene function, the final rinse phase heats up to 69°C and keeps the temperature high for minimum 10 minutes to sanitize your dishes, removing more than 99,9999% of bacteria and viruses.
Height Adjustable Upper Basket
Provides more flexibility as bigger items can be loaded in the lower basket by raising the upper basket on one side, even if the basket is loaded.
Floor Beam To Update You On Wash Status
A spotlight shines on the floor to show the programme is running or how long is left.
Product Features:
FlexiSpray arm, with it's clever double rotating action for excellent cleaning results
Clever double rotating action
Inlet Pipe Type : Aqua control
Floor beam wash status
Required Fuse: 10
Connected Load: 1950
8 programmes, 4 temperatures
11 litres - more economical than washing by hand
Double hinges: Sliding
Cord length: 1.6
Up to 24 hour time delay
Anti-flood device: Floating switch
Spray arm: Satellite spray arm
Top spraing level: Ceiling spray arm
Options: ExtraHygiene, GlassCare, XtraPower
Dishwasher programs: 160 Minutes, 60 Minutes, 90 Minutes, AUTO Sense, ECO, Machine Care, Quick 30 Minutes, Rinse & Hold
Wheels/feet: 2 adj feet + 1 front adj rear foot, Adj 0 to 8 cm
Cleaning performance index : 1.13
Drying performance index : 1.07
Water supply: Cold or hot
Outlet hose length (mm): 180
Inlet hose length (mm): 180