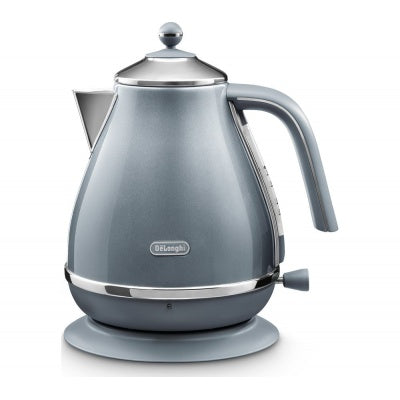 DeLonghi KBOT3001.AZ Icona Metallics Kettle Blue
DeLonghi KBOT3001.AZ Icona Metallics Kettle
Product Information:
Designed with a classic shape and high gloss metallic finish, the De'Longhi Icona Metallics Kettle will really stand out in your kitchen. And you can match it with other items in the Icona Metallics range.
Importantly, it makes a great brew too. Rapid boil means you won't have to wait long, while the washable limescale filter catches all those bits – great if you're in a hard water area. It clearly displays the water level, so you never need to boil any more than you need to.
(KBOT3001AZ)
Product Specification:
Dimensions wxdxh 230x230x265mm
Weight 1.3kg
Capacity 1.7L
Input power 3000w
Rated voltage/Frequency 220-240 V 50-60 Hz