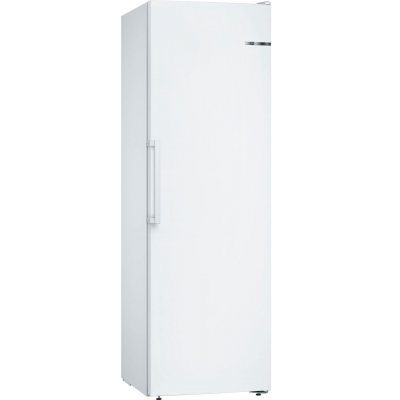 Bosch GSN36VWFPG Serie 4 Larder Freezer
Included in this price is a recycling charge of €5
Bosch GSN36VWFPG Serie 4 Larder Freezer
Product Information

This energy efficient freezer with 4 transparent freezer drawers: provides ample room and a good overview.
Full flexibility in the freezer area
You can remove all the safety glass shelves in the freezer area really easily to create more space - to store a multi-level cake, for example, or a whole turkey. Large foods such as a family-sized pizza can be stacked on the glass surfaces without any problem.
Lots of space for XXL frozen goods with the BigBox drawer
An extra-deep frozen food drawer for practical stacking of frozen foods container or large frozen items like gateaux or pizzas. No matter whether you have to cater for a child's birthday or freeze a wedding cake – in the BigBox you will find enough space for large frozen goods.
Alarm
The alarm system signals a sound or light when the door is not closed properly
Cold accumulator
In case of power failure, the cooler plate is released by the accumulator to release the cool air in order to maintain low temperatures.
Never defrost your fridge again
Defrosting a fridge by hand can be very annoying and time-consuming. Thanks to our new fridges with NoFrost, you can easily remove this task from your to-do list for good. Unlike in conventional fridges, the air humidity in a NoFrost fridge is permanently collected in a central chiller unit, which automatically defrosts on a frequent basis. The resulting condensation is simply channelled outside out of the fridge, where it then evaporates. This way, NoFrost permanently keeps your fridge free of not only ice, but also the need for manual defrosting.
FreshSense: perfect storage climate
Thanks to the optimum storage conditions, your food preserves an ideal consistency; ice cream, for instance, is neither too soft nor too hard. A constant temperature in the fridge interior is a decisive factor in achieving more freshness and flavour. FreshSense sensors constantly monitor and control the ambient, fridge and freezer temperature. A constant temperature inside the fridge, independent of the outer temperature, is the result.
Multi Airflow System: even air distribution for longer freshness
The fan-assisted MultiAirflow System causes gentle, even currents of cold air to emerge at all levels of the chilling and freezing area. Temperature fluctuations are minimised and cooling times reduced – which helps your foods retain their flavour for longer.
Key Features
VarioZone: more flexibility due to variable-use glass shelves and drawers in the freezer compartment
NoFrost: never defrost again, thanks to perfect protection from ice formation - that saves time and effort
BigBox frozen food drawer: for stacking storage containers or for large frozen food items
Cools especially efficiently
An audible alarm system signals the door is open
242 Litres of usable freezer space, enough for 13 bags of groceries
Reversible door hinge so you can position the freezer wherever you like
2 year warranty for peace of mind
Dimensions (mm): H1860 x W600 x D650
4 Freezer drawers and 3 shelves
Performance and Consumption
Total net capacity: 242 litres
Noise level dB(A) re 1 pW: 39
Functions
White doors and white side panels
Plastic Vertical door handle
Design features
No Frost, never have to defrost ever again
LED electronic control
Freezer malfunction warning