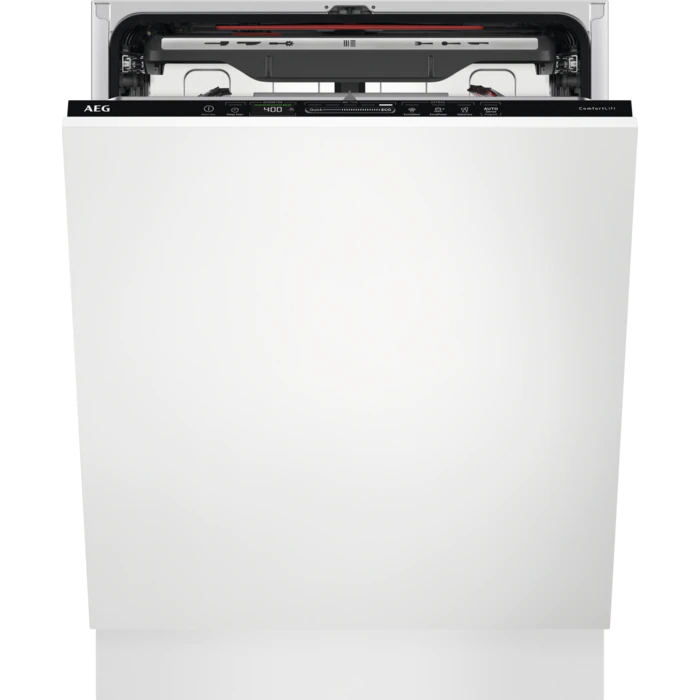 AEG Fully Integrated Dishwasher | 13 Place | FSE83837P
ComfortLift revolutionises dishwashing with the world's first lift-and-load basket. This advanced mechanism lifts the rack up to a comfortable height. For easy loading and unloading. Elevating the dishwasher to a whole new level.
Lifts Gentle to a New Level
This world-leading ComfortLift gently lifts the lower dishwasher rack up to a comfortable height. For easy loading and unloading. Elevating dishwashing to a whole new level.
Customisable Space and Convenient Cleaning with Maxiflex
The MaxiFlex drawer is engineered to accommodate cutlery and utensils of many sizes, whether large or awkwardly shaped. Flexible dividers and maximised depth mean each load is customisable. Essentially every item is seamlessly loaded and cleaned in one go.
Customisable Eco Dishwashing with Just a Touch
With the 6000 QuickSelect Dishwasher you can use the My Time slider to select the cycle time, the Ecometer will display the eco performance for each of the possible selections. So, you can easily select the best option with just a touch.
At-a-Glance Check
This dishwasher has a clever way to keep you fully up to date with the status of your dishes. Its beam-on-floor technlogy projects a red light onto the floor while the cycle is still in progress. And when everything is ready to unload, it switches to a green one. Simple, and effective.
Powerful Dishwashing with Satelliteclean
Experience impeccable dishwashing with SatelliteClean. This spray arm has three-times better coverage than the standard. Because the double rotating arm constantly changes the angle of the spray. Water reaches every corner. For a complete clean.
Capacity: 13 Place Settings
Capacity is based on 'IEC' standard place settings. This standard allows you to compare the capacity of dishwashers using a common measure.
Sensorlogic
Sensorlogic uses sensors in the dishwasher to measure the size of the load and the level of soiling. The wash programme is then adjusted to give the best possible performance whilst keeping water, electricity and detergent to a minimum.
Auto Half Load
Auto half load allows the dishwasher to determine whether there is a full or half load and will moderate the water and energy consumption accordingly.
Multi-Tab
Optimises the cleaning results of all-in-one detergents by ensuring that all the elements of the detergent are used in the correct phase of the cycle for perfect results.
Delay Start of Up to 24 Hours
You can set the wash programme to start in up to 24 hours enabling you to use your time efficiently without worrying about your laundry.
Time Remaining Indicator
Indicates the amount of time remaining until the programme ends.
Height Adjustable Upper Basket
Provides more flexibility as bigger items can be loaded in the lower basket by raising the upper basket on one side, even if the basket is loaded.
Foldable Plate Rack
Flexible feature enabling large items such as casserole dishes to be loaded by folding away the plate supports.
Dishwasher programs:
160 Minutes
60 Minutes
90 Minutes
AUTO Sense
ECO
Machine Care
Quick 30 Minutes
Product Features:
ComfortLift
SatelliteClean
GlassCare
MaxiFlex
QuickSelect
Drying system: with AirDry Technology
Comfort lift design
Satellite clean
Beam-on-floor technology
Sensor logic
Adjustable basket
Double hinges: sliding
4 temperature settings
Water supply: cold or hot
Cord length: 1.6
Inlet hose length (mm): 180
Outlet hose length (mm): 180
Wheels/feet: 2 adj feet + 1 front adj rear foot, Adj 0 to 8 cm
Inlet pipe type: aqua control
Anti-flood device: floating switch
Spray arm: satellite spray arm
Top spraing level: ceiling spray arm
Options: Extra silent, GlassCare, XtraPower
Cleaning performance index (EU 2017/1369): 1.13
Drying performance index (EU 2017/1369): 1.07
Weighted energy consumption in kWh per 100 washing cycles of eco 40-60 programme (EU 2017/1369): 85