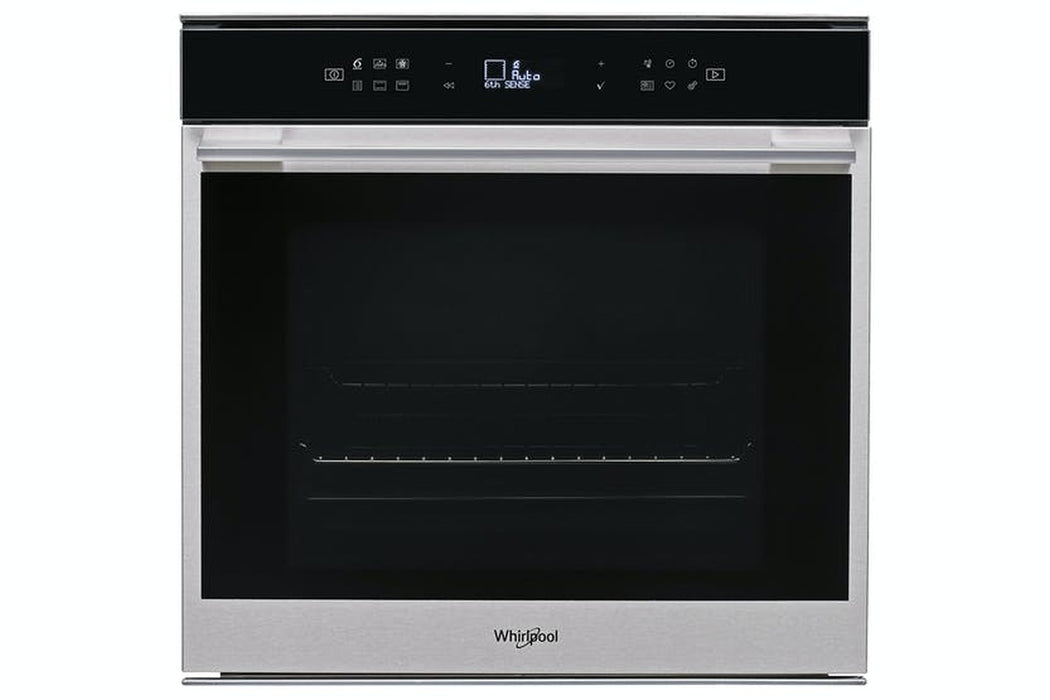 Whirlpool W Collection Built In Electric Single Oven | W7OM44BPS1P
Whirlpool W Collection Built In Electric Single Oven
Discover a new approach to cooking with the Whirlpool W Collection W7 OM4 4BPS1 P oven. For an innovative and simplified cooking experience, just select a dish from the 40 cooking combinations and 6TH SENSE technology does the rest by automatically adjusting the time, temperature, and humidity settings to ensure gourmet cooking results. When you're entertaining, Cook4 features a special airflow to prevent aromas and flavours mixing, so you can cook four different dishes simultaneously with perfectly tasty results. And thanks to Pyrolytic technology, you can get your oven spotlessly clean at the touch of a button. Pyrolytic technology uses a high-temperature cycle to burn food residues into ashes, which can then be easily wiped away with a sponge.
Wcollection Aesthetic
A Masterpiece of Design. Whirlpool understands the importance of craftsmanship and carefully honed details. The timeless design of the W Collection complements any style of kitchen, while the matching appliances blend seamlessly with each other to create a sublimely eye-catching coordinated look. Even the gleaming finishes are engineered for easy cleaning, so fingerprints and smudges become a thing of the past. From the platinum chromed logo to the tinted glass and sophisticated edge-to-edge metal band, every detail has been designed to delight and enhance the overall Whirlpool experience.
XXL Cavity
The XXL cavity in your oven has a capacity of 75 litres with 5 different shelf positions available.
Energy Class
Ovens with an A/ A+ energy rating offer an excellent level of energy efficiency, ensuring lower consumption and saving you money on your energy bills.
BakeSense
BakeSense smart sensors monitor the level of humidity and adjust the oven settings to ensure baked goods are always delectably crunchy on the outside and scrumptiously fluffy and moist on the inside
Softclosing
Slow-closing hinges, the oven door shuts effortlessly, with a soft and silent motion.
Meat Probe
Set the required temperature and insert the Meat Probe into your food. The oven will tell you when your dish is ready to be enjoyed.
Sliding Shelves
This Whirlpool oven features soft-sliding shelves, for increased ease of use.
Key Features:
Colour: Stainless Steel
Number of Ovens: 1
Number of Functions: 10
Single Oven: Yes
Fit Type: Built In 
Fuel type: Electric
Total Oven Capacity: 73 Litres
Height (mm): 595
Width (mm): 595
Depth (mm): 564
Weight: 40.5KG