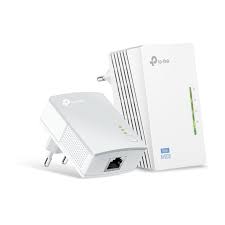 TP-LINK WI-FI KIT TL-WPA422O KIT
Wi-Fi Auto-Sync for Unified Wi-Fi Network
Wi-Fi Auto-Sync creates a simple, intuitive powerline experience. Pressing the Wi-Fi Clone button instantly copies your network name and password from your router for easy setup. Wi-Fi Move automatically applies any settings changes across the network. Your existing Wi-Fi settings will be synchronized to the new extender automatically.
Plug, Pair and Play!
Plug the TL-PA4010 in the wall and connect it to the router with an Ethernet cable.Then plug the TL-WPA4220 in any desired power outlet.
Press the 'Pair' buttons on both adapters to create a secure network.
There you go! Just enjoy the seamless, high speed wired and wireless network.
* Powerline adapters need to be connected to the same electrical circuit.
Powerline Management on Your Smartphone
The tpPLC Utility and tpPLC app make it easy to control wireless network settings, set schedules for Wi-Fi availability and even control the LED indicators on your adapters from any iOS or Android device. You can download the tpPLC app for iOS and Android devices. You can download the intuitive new tpPLC Utility for your PC at www.tp-link.com/en.
300Mbps Wi-Fi Range Extender, AV600 Powerline Edition
TL-WPA4220KIT
One Touch Super Range Extension - Wi-Fi Clone Button simplifies your Wi-Fi configuration and helps build a seamless unified home network
HomePlug AV standard compliant*
Extend 300Mbps wireless connections to previously hard-to-reach areas of your home and office*