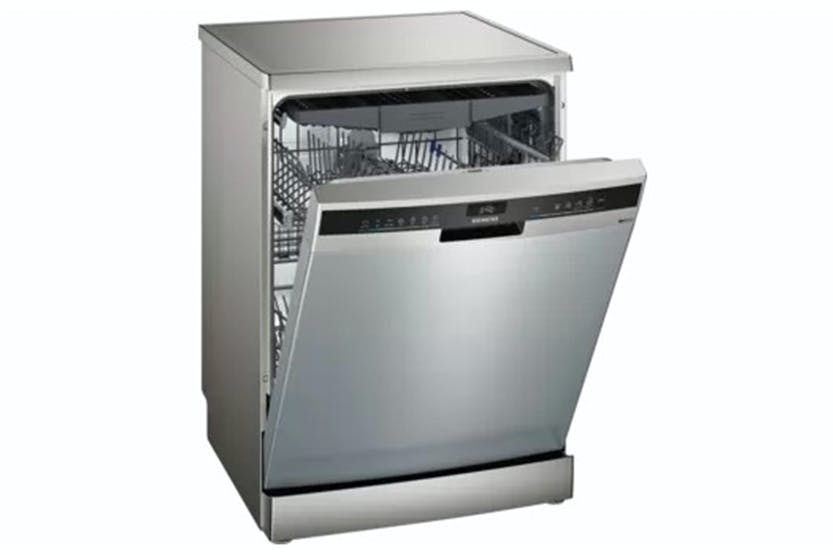 Siemens IQ300 Freestanding Dishwasher | 14 Place | SE23HI60CE
Flex Baskets - Flexibility For Convienent Loading
Ready for your dishes: the new flex baskets and drawer offers a lot of flexibility and ease of use when loading and unloading. Whether plates, pots, cups, or wine glasses - in Siemens dishwashers with flex baskets, every dish quickly finds its place.
Not just for your cutlery, but also for your espresso cups: the varioDrawer
The varioDrawer offers an additional loading level. Thanks to its special design it not only provides room for cutlery, but also for ladles, salad servers and even small items of crockery such as espresso cups. And as there is no longer a cutlery basket in the bottom basket, there is now space for a total of 14 standard place settings.
Efficient, durable and quiet: the iQdrive motor
Lower energy consumption with identical performance, short programme times with optimum results and always nice and quiet whatever the programme – all that is not a problem for the iQdrive motor. And on top of all these advantages, it runs virtually free from wear.
Lifetime Warranty Against Water Damage: AquaStop
The aquaStop safety system prevents water damage of any kind, whether in the supply hose or from a leak in the machine. Siemens warranties this safety for the life of the dishwasher.
Optimum Dishwashing Results at the Touch of a Button: Auto Programme
After the autoProgramme button has been pressed, aquaSensor checks how dirty the water is and controls when and how much clean water is added as well as the dishwashing temperature.
Loading Lots of Dishes is Easy
The basket is equipped with special devices at the top. If they are pressed, the height of the top basket can be easily adjusted in three stages. That makes loading and unloading simpler, particularly when dealing with large pots or plates.
Gentle on Top, High Pressure Below: the intensiveZone
Selecting the intesiveZone increases the water spraying pressure for very dirty dishes in the lower rack. In the upper rack the programme remains unchanged and delicate dishes are still gently cleaned.
10-year Warranty Against Rusting Through* of the Inner tub of a Siemens Dishwasher
In addition to innovative technology, you can expect one thing in particular from a Siemens dishwasher: durable quality. The inner tubs of all Siemens dishwashers feature the use of high-quality stainless steel sheets, production and connection technologies adapted to the specific materials, and a special surface treatment. That's why we're one of the few manufacturers who also provide a full 10-year warranty against rusting through of the inner tub. *Online registration required within 8 weeks after delivery. Registration and terms of the warranty available at siemens-home.de
Clean Less Anti Fingerprint
The antiFingerprint feature puts an end to annoying fingerprints on stainless steel.
Releases the Full Strength of the Detergent: Dosage Assistant
The cleaning tablet falls directly into a small catch pan thanks to dosageAssist. A precisely aimed jet of water quickly dissolves it. The detergent is distributed evenly throughout the machine, always guaranteeing optimum cleaning results for you.
Performance
Programme duration: 4:55 (h:min)
Noise Efficiency Class: B
Depth with open door 90 degree: 1,155 mm
Height of removable worktop: 30 mm
Functions
6 programmes: Eco 50 °C, Auto 45-65 °C , Intensive 70 °C, 1 hour 65 °C, Speed 45 °C, Favourite
Default favourite programme: Pre-Rinse
Machine care programme
Cleaning performance index: 1.121
Drying performance index: 1.061
Airborne acoustical noise emissions: 44 dB
Airborne acoustical noise emission class: B
Energy Efficiency Index: 50
Power consumption in standby mode: 0.50 W
3rd Rack 1.0
Product Features
Drying system: Heat exchanger
rackMatic
List of programmes Auto 45-65°C, Custom program, Economy, Intensive, Quick L
Drying progress indicator: Time remaining indicator front, water inlet
Aquasensor