NV7B5755SAS Series 5 Smart Oven with Dual Cook Flex and Air Fry
key features



2 small or 1 big oven
Dual Cook Flex
Cook different meals more flexibly and efficiently. Dual Cook Flex's upper and lower zones work independently. Use just the top for smaller dishes, both together with different temperature and time settings or the whole oven for large dishes. And a hinged door lets you access the top easily.
*NV7B5675LAK model tested. Total energy consumption is reduced by 25.3% and the cooking time is reduced by 22.7%, according to internal test results based on the IEC- 60350 test protocol (small cakes, convection 165℃, compared to whole compartment). Actual savings will vary depending on the cooking item, usage and other factors.
Healthier fried food
Air Fry
Enjoy healthier fried food without a deep fryer. Air Fry combines a special tray with hot air circulation that envelops food. It is the ideal way to cook French fries, Tater Tots or even vegetables as it eliminates excess fat, but everything is still crispy and brown outside and juicy inside.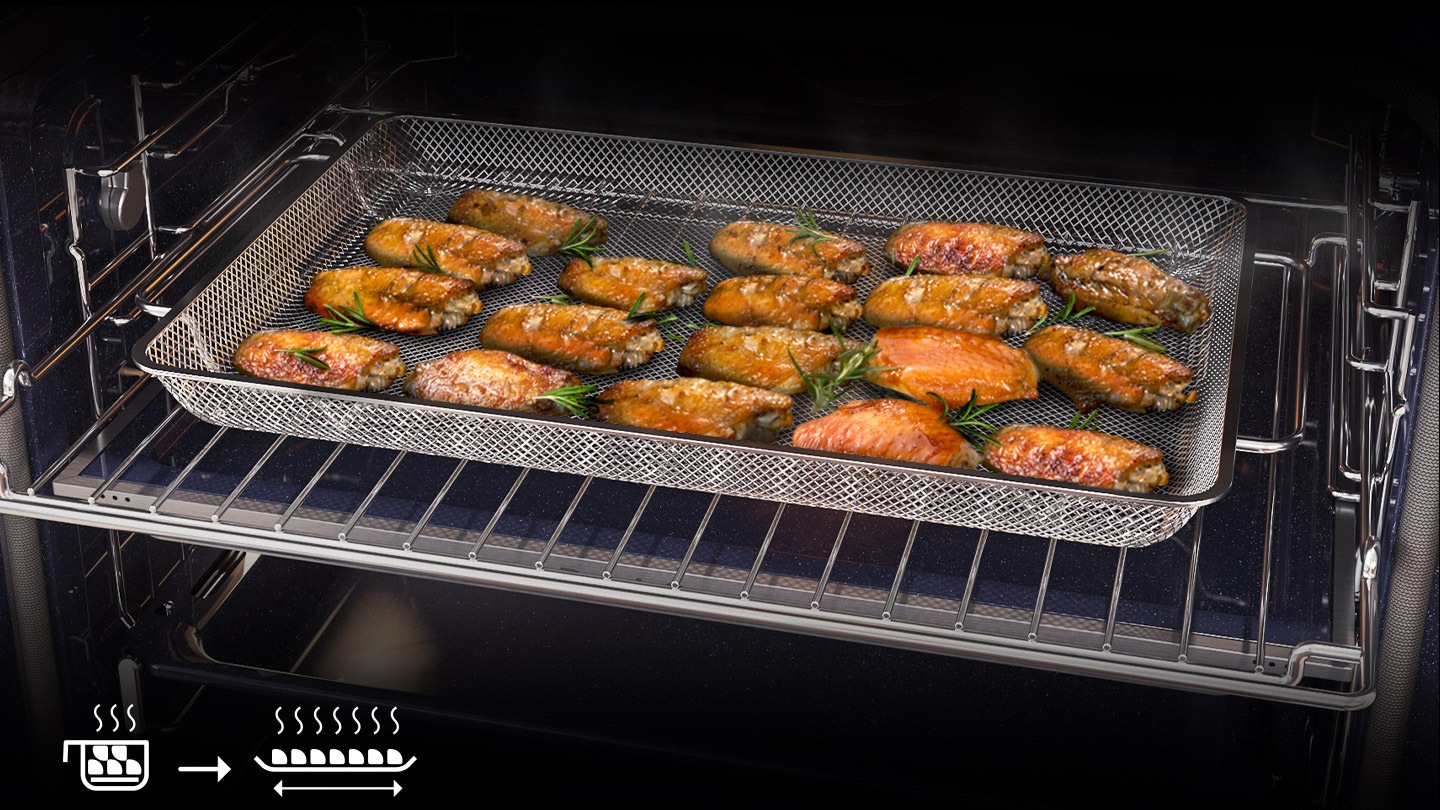 Keep food juicy inside and brown outside
Natural Steam*
Enjoy deliciously juicy, but crispy food. To use Natural Steam* simply place the dedicated tray on the bottom of the oven and pour water onto it. This then creates steam while you are cooking. It helps retain food's natural moisture, so it is juicy and tender inside, but brown and crisp outside.
Simply more intuitive
Modernized Design
Enjoy a hassle-free cooking experience with intuitive and personalized control. The modernized design has a stylish control panel with a 4.3" LCD display, touch control and a single knob. Based on your usage patterns, it shows the most frequently used options, which can be quickly selected.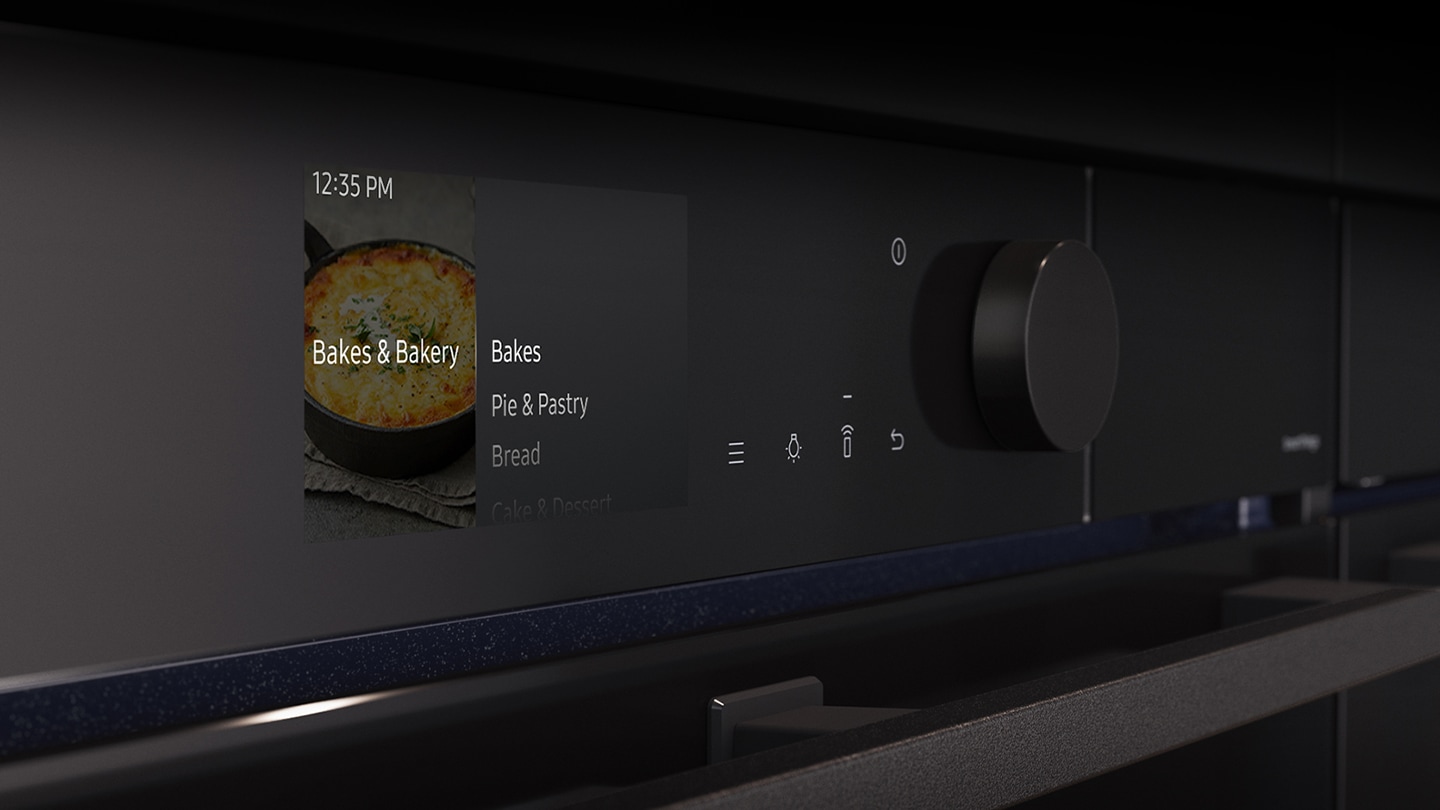 Closes smoothly, gently and silently
Soft Close Door
Enjoy a more peaceful cooking experience with the Soft Close Door. It closes safely, gently and silently. The hinge makes the door move smoothly in the final few centimeters, so it slowly and quietly shuts, with no vibration or banging sounds.
*Specifications may vary by model.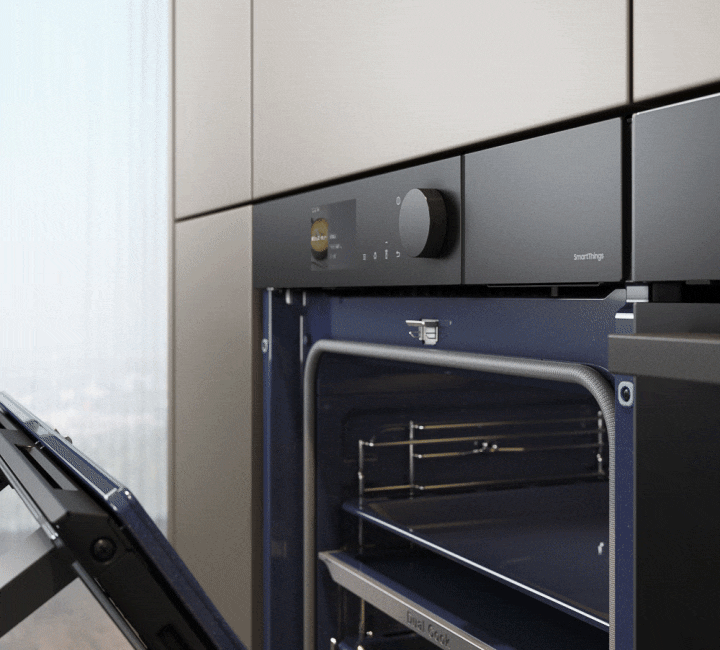 Effortlessly easy self-cleaning oven
Catalytic Cleaning
Save yourself the time and effort of scrubbing the oven. A Catalytic Cleaning* system makes it easy to keep the oven clean. The catalytic liner at the rear of the cavity absorbs grease from splashes and drips during cooking. So it cleans itself without any hard work or costly cleaning products.
* Only available on certain models.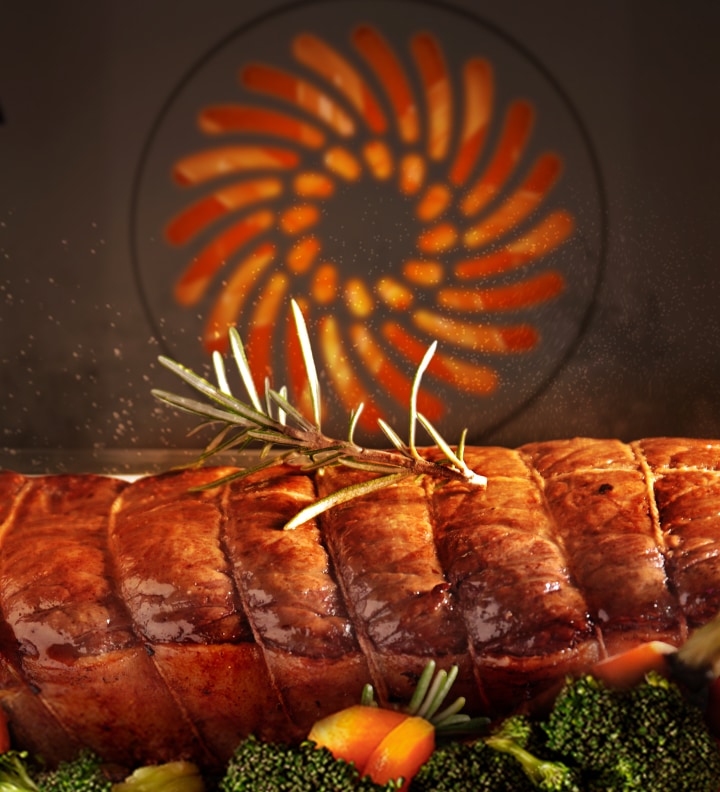 More joy, less burden
SmartThings Cooking
Make your kitchen experience more joyful. SmartThings Cooking* saves time and minimizes the burden of cooking. By understanding your needs it recommends personalized recipes** and creates a weekly meal plan. It also offers a guided cooking experience and enables effortless grocery shopping***.
* Requires a wireless network, a Samsung account and the Samsung SmartThings App. The Samsung SmartThings App supports Android OS 8.0 (Oreo) or later, which is optimized for Samsung smartphones. This App also supports iOS 13 or later for iPhone models. The SmartThings App is available in the App Store and Play Store.** Available in certain languages, including English, French, German, Italian and Spanish.*** Only available in the UK and Germany. Other countries will be added soon.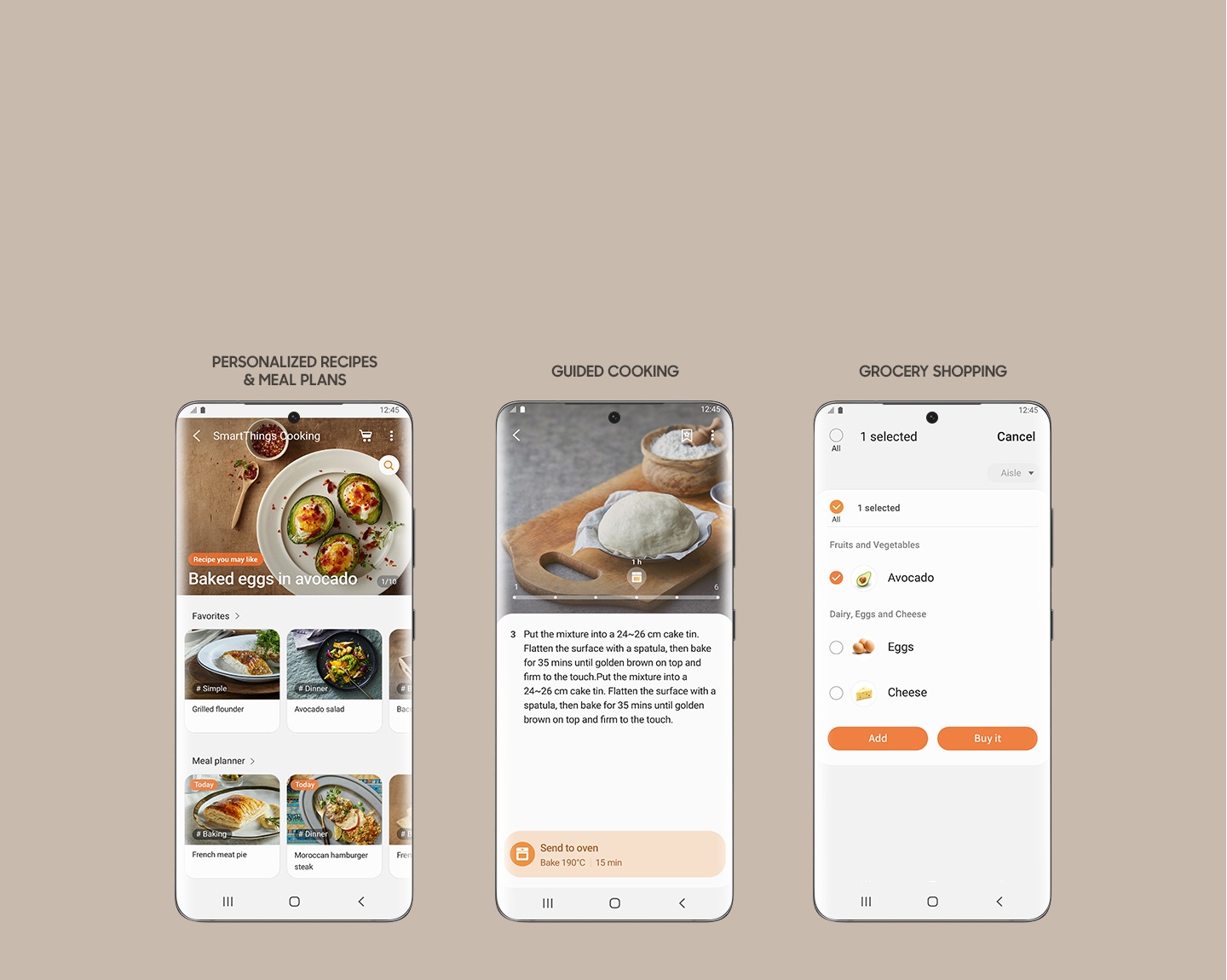 Totally even cooking
Air Sous Vide
Cook food more evenly without it overcooking or drying out. An Air Sous Vide* system accurately senses the temperatures in each cavity and maintains an even temperature for a long period. So everything is cooked thoroughly, wherever it is in the oven, and tastes deliciously tender and juicy.
* Requires a dedicated sous vide cooking bag, which is not included with the oven.
Cook much more
Big Capacity (76L)
Create more and larger dishes with a massive 76 liter capacity oven. It opens up more possibilities in home cooking. You can prepare lots of different food together, like everything you need for a party. Or it can easily accommodate large items, like a king-size turkey, for a family gathering.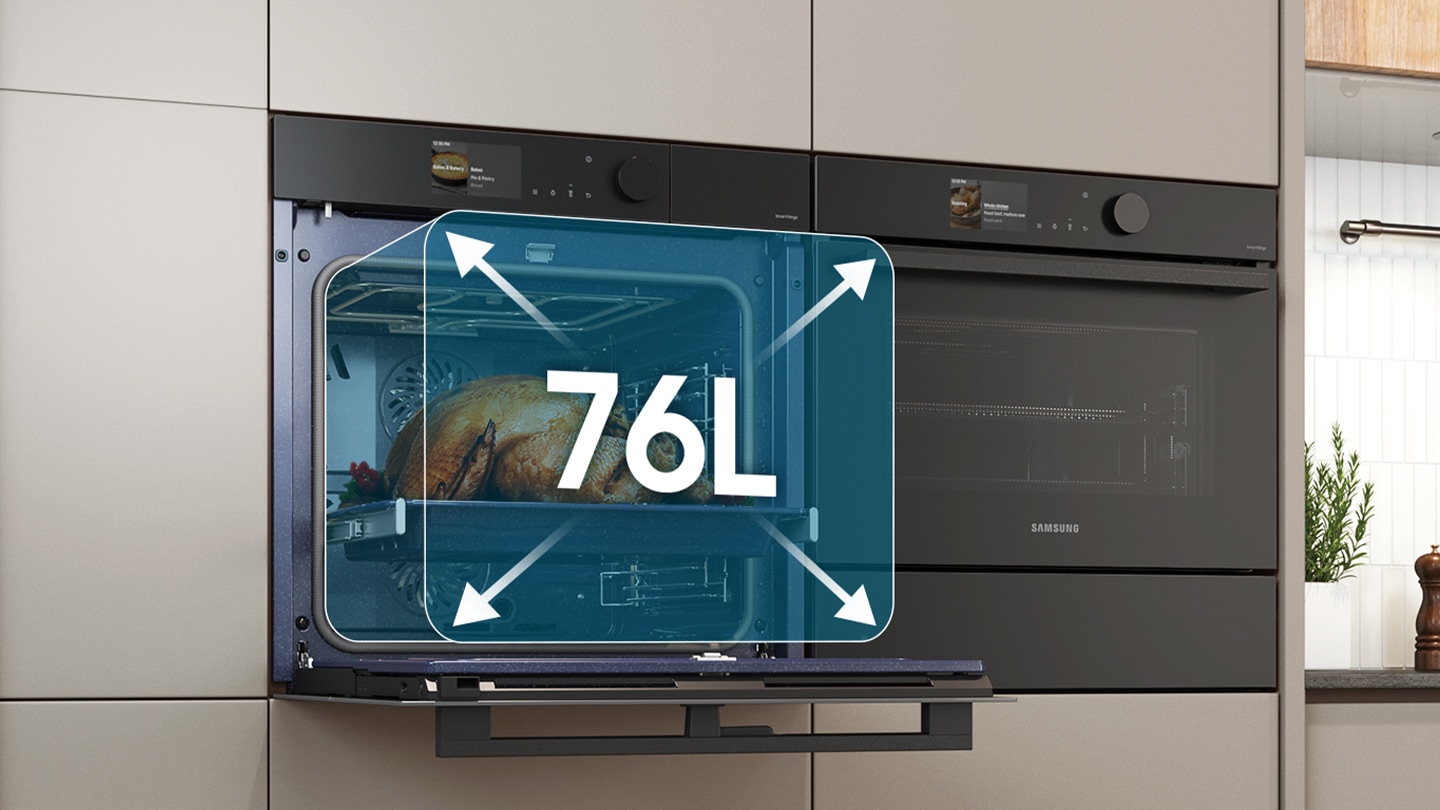 Remarkably efficient and eco-friendly
Energy Efficiency – A+
Make your home more energy efficient. You can use the whole oven and enjoy exceptional A+ rated energy efficiency* with the Eco convention mode. It saves energy by using less power, but you still have the convenience of a very large and flexible oven space. And it reduces harmful CO2 emissions.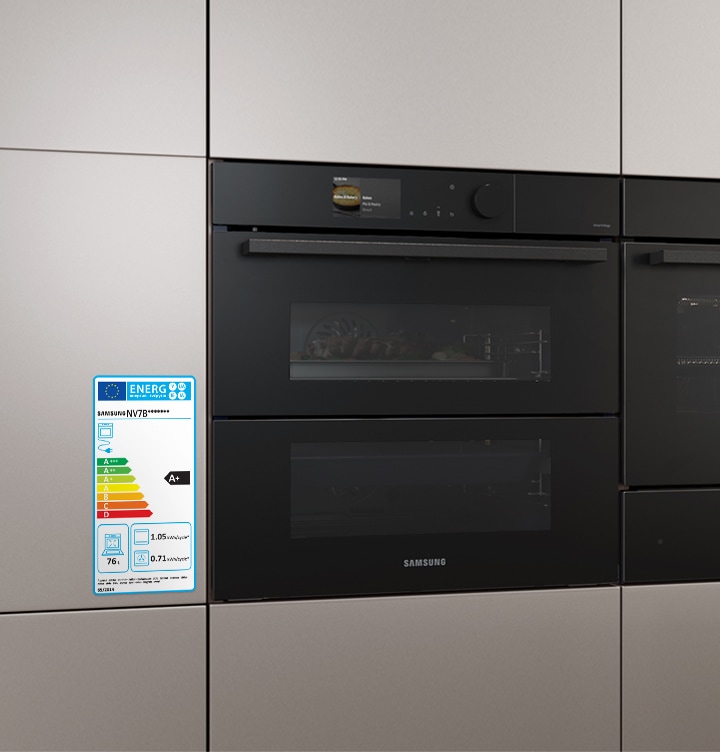 Smooth gliding shelf
Telescopic Rail
Get things in and out of the oven much more easily. The Telescopic Rail slides in and out smoothly with hardly any effort, even if you're using large or heavy pans. It creates much less friction, so it's much easier to load and unload. And you can baste, turn and season food without any spills.
*Specifications may vary by model.
Specifications
Outside (WxHxD)

595 x 596 x 570 mm
Energy Efficiency Class

A+