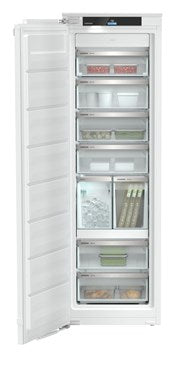 LIEBHERR SIFNE5188 Peak NoFrost INTEGRATED FREEZER
Included in this price is a recycling charge of €5
Description
Nofrost
When you open your freezer, you want to see frozen food – and certainly not ice and frost. NoFrost protects the freezer compartment from unwanted icing, which consumes a lot of energy and can be expensive. NoFrost means no more tedious and time-consuming defrosting of the freezer compartment, more time for other things – and saving money.
Touch & Swipe Display
Control of your Liebherr at your fingertips: thanks to the Touch & Swipe display, you can operate your refrigerator intuitively and with ease. Simply select functions such as SuperCool on the colour display by tapping and swiping. The temperature is controlled just as easily. And, what if you are not actively using the display? Well, it then shows you the actual temperature.
Softsystem
From breakfast to a midnight snack – a fridge needs to be open and closed on many occasions. And your Liebherr makes this is a lot of fun. With the SoftSystem, your fridge door closes softly and safely, and in a way which is pleasantly quiet and light. Bottles stored in the inside door remain securely in place – nothing rattles or wobbles.
Led Icemaker Lighting
Allow yourself a small moment of happiness every day – by simply taking a look at your fresh ice cubes. The IceMaker lighting coolly places your ice cubes centre stage. The LED lighting activates automatically when the door is opened. The illuminated ice cubes are fun to look at – and whet your appetite for an ice-cold drink.
Super Silent
Shhh – listen carefully. Your Liebherr is so quiet that you have to strain your ears to hear it. How is this achieved? All refrigeration components such as compressors, valves, fans and evaporators are optimised and perfectly adapted to one another. This means you only hear what you want to hear in your kitchen.
The LED Freezer Compartment Lighting
The LED freezer compartment lighting ensures your freezer drawers are pleasantly lit. This makes it even easier for you to find the food you want. The energy-efficient LED unit is elegantly positioned above the drawers to save space.
LED Ceiling Lighting
Retrofitable Smart Device Box
Want to be prepared for the future of the Smart Home? Your Liebherr will be happy to help. You can retrofit it with a SmartDeviceBox which will connect your Liebherr to the Internet. The SmartDeviceBox can be installed in just a few steps and will open up the whole world of digital possibilities to you today.
Icemaker with Fixed Water Connection
Are there any ice cubes left? The IceMaker means you never have to ask. With the IceMaker with fixed water connection, the water comes directly from the tap. The MaxIce function allows you to produce up to 1.5 kg of ice cubes a day. The versatile ice compartment divider lets you choose the amount of ice cubes you want to store; easy and just as you like it.
Icetower
You will never run out of cold drinks at your party. The IceTower, which holds 5.7 kg of ice cubes, makes sure of that. The ice cube scoop and the pull-out tray on telescopic rails allow easy access to the ice cubes. An extra insert tray means you can also store less ice and make room for frozen food underneath. The adjacent drawer provides storage space for frozen goods.
Cold Storage Accumulator
The cold storage accumulators make themselves doubly useful - both indoors and outdoors. Inside the freezer, in the event of a power failure, they supply the frozen food with cold for a while. And on trip out, they are on hand to chill your food and drinks. Of course, in SmartFrost models, they are stored in the roof of the freezer compartment to save space.
Freezer Tray
Do you want your frozen berries to be fresh and firm after defrosting – and to not turn into a compote? The freezer tray is ideal for this type of delicate food. When spread out well on the plastic tray, fruits and herbs freeze quickly and without being squashed. You can easily insert the freezer tray in the freezer drawer and remove it again.
The Cold Storage Accumulator
The cold storage accumulators are doubly useful - both indoors and outdoors. Inside the freezer, they keep the frozen food cold for a period should there be a power failure. And they are on hand to chill your food and drinks when you're on outings.
Vario Space
Want to store a multi-layer ice cream cake safely until the summer party? No problem for your Liebherr freezer: Sometimes you just need more space and it's prepared for just that. With VarioSpace you can remove individual freezer drawers and the horizontal glass dividers below them, and hey presto, you have an extra large storage space.
Replaceable Door Seal
Do you think the door seal on your Liebherr needs to be replaced after a few years? This is very easy to do yourself. The replaceable door seal can be removed in a few simple steps – and the new seal is just as easy to insert. As a result, this part of the refrigerator is always spotless and hygienically clean.
Bottle Timer
Done this before? You place a bottle of wine in the ice compartment so that it chills quickly – and forget about it. This will never happen again with the BottleTimer: it provides extra fast cooling by activating SuperFrost. And as soon as the bottle has reached the optimum temperature, your Liebherr reminds you via the app to take it out of the ice compartment.
Door Alarm
Your Liebherr's door alarm ensures that you don't use up energy unnecessarily and spoil food. The moment the fridge door is left open for too long, it alerts you – with a pulsating light and a warning tone. However, you decide how long is "too long". Depending on the setting, the door alarm is triggered after 1, 2 or 3 minutes.
Sabbath Mode
On the Sabbath, all activities are at rest – this also applies to electrical appliances. Your Liebherr takes this into account. In SabbathMode, all the fridge lighting is switched off, as are all sounds, noises and the display. After 80 hours, the SabbathMode deactivates.
Temperature Alarm
In your Liebherr freezer, food is safe even in the event of a fault: the temperature alarm reliably warns you the moment the temperature reaches a critical level. No only do you hear this alarm, but you also see it. The display shows how far the temperature has risen. You can of course switch off the alarm manually.
Energysaver
Do you want to save energy and money at the same time? Your Liebherr will help you do just that – with the energy-saving mode. When you activate the EnergySaver, the standard temperature increases by two degrees. This means your Liebherr needs even less power – and your food stays optimally fresh.
Partymode
Now your ready for the guests to come – because your Liebherr is also in a party mood. As soon as you switch on PartyMode, it reliably provides ice-cold drinks and an extra portion of ice cubes. PartyMode activates functions such as SuperCool and maximum ice production. After 24 hours, your Liebherr automatically returns to its normal mode.
Superfrost
Want to freeze your fresh food in a way that preserves vitamins? Simply activate SuperFrost – and the freezer compartment will increase its cooling capacity. In this way, the temperature remains constant when you place in unfrozen food. SuperFrost is also energy-saving: if you don't switch off the function manually, it automatically deactivates itself after 65 hours.
Display Lock
An illuminated display is a magnet for children's hands – your Liebherr also knows that. That's why there is the display lock. It ensures the settings on your refrigerator are not changed unintentionally. You can also, of course, simply deactivate the display lock.
Power Failure Alarm
Your Liebherr is a real guardian angel for your food. In the event of a power failure, it reliably sounds the alarm. Not only do you hear the alarm, but you can also see it. The display shows the highest temperature reached in the freezing compartment. However, you are never alerted unnecessarily. If there is no critical rise in temperature during a brief power failure, the alarm will not go off.
Language Settings
From now on, you and your Liebherr will always get along fine – because it speaks your language. The variable language setting makes this possible. When you start up the appliance, simply select from twelve languages on the display – and operate your Liebherr in the language of your choice.
Output and Consumption:
Energy consumption in 24h: 0.649 kWh / 24h
Sound Emission Class: B
Control and Functions:
Number of temperature zones: 1
Number of regulated refrigeration circuits: 1
Temperature display: Freezer
SuperFrost v1 FTR-42: Adjustable on appliance and via app
Door alarm, freezing: Adjustable on appliance and via app
Bottle timer: Adjustable on app
Display lock: Adjustable on appliance
Smart device: Adjustable on appliance and via app
Smart device box: Retrofittable
Refrigerator Compartment
Freezer Compartment:
Temperature range freezer compartment: -15°C to -28°C
Freezing capacity in 24 hours according to GS *: 10 kg / 24h
Drawer pull-out system, freezer compartment: Partially-extendible telescopic rails
Interior light, freezer compartment: LED light
Ice maker
Type of hose: Mains water hose with waterstop
Ice maker safe lighting
Ice cube production: 0.8 kg / 24h
Ice cube storage: 5.7 kg
Ice tower
Number of cold storage accumulators: 2
Freezer tray: 1
Design and Materials
Material of adjustable shelves in the freezer compartment: Glass
Set-up and Installations
Type of installation: Can be integrated
Door assembly: Fixed door
Max. kitchen unit door weight: 26
Door opening angle: 115°
Door hinge replacement
Height-adjustable feet: 2
Number of levelling bars: 2
Plug type: Euro
Connector cable (length): 2,200 mm
Technical Data:
Aperture dimensions height/width/depth: 177.2 - 178.8 / 56 - 57 / 55.0 cm
Total volume: 213 L
Volume, freezer compartments: 213 L
Product Features:
2,4" TFT colour display, touch and swipe display
Cooling technology nofrost
Drawers closed on all sides with transparent front
Ventilation grates