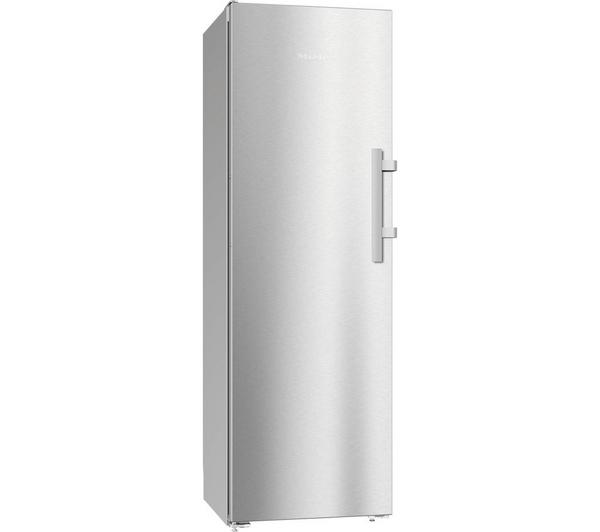 MIELE FN28262 FREESTANDING FREEZER
Included in this price is a recycling charge of €5
Miele FN 28262 Frost free Upright Freezer Stainless Steel 
Product Information:
No More Defrosting
With the NoFrost system you never have to defrost your Miele refrigeration appliance again. The NoFrost system distributes cold, dry air evenly so that ice cannot form in the interior cabinet. Furthermore, ice deposits do not form on your frozen food and, without layers of ice on the interior, drawers can always be opened and closed easily. NoFrost offers maximum convenience for freezing food and saves you the hassle of defrosting forever.
Miele Mobile App
Intelligently networked With Miele mobile it is easy for you to connect with your refrigeration appliance or wine unit. With Plug Play you register the appliance with the app and you immediately have access to the current status, no matter where you are. You can also control some individual appliance functions via the app and are kept reliably informed of faults and alarms.
VarioRoom
The VarioRoom storage concept allows you to arrange storage space in the freezer to suit your needs. This is particularly useful when, for example, you want to freeze bulky items. The drawers and glass shelves can be removed easily so you can create as much space as you need in no time at all.
Freezer Section Lighting
Bright LEDs from the upper refrigerator door illuminate the freezer section perfectly and ensure a perfect view of your frozen items whether drawers are open or closed. You no longer need to spend time looking for frozen food items.
Product Specification:
Door hinge Left
Casing colour White
Front colour White
Freezer compartment lighting LED
Concealed door opener EasyOpen lever handle
Operating concept TouchControl
No. of temperature zones 1
Number of freezer drawers/baskets 8
Energy efficiency class (A–F) F
Annual energy consumption in kWh 305,79
Energy consumption per 100 l in 24 h in kWh 0,838
Appliance width in mm 600
Appliance height in mm 1.850
Appliance depth in mm 630
Weight in kg 75,4
Door hinge technology Fixed door
Climate class SN-T
4* freezer compartment in l 268
Total usable capacity in l 268
Storage time in case of fault in h 9
Freezer capacity in kg/24 h 15,9
Noise class (A–D) C
Sound power in dB(A) re1pW 41
Current consumption (mA) 1.300
Voltage in V 220-240
Fuse rating in A 10
Frequency in Hz 50
Length of supply lead in m 2,4