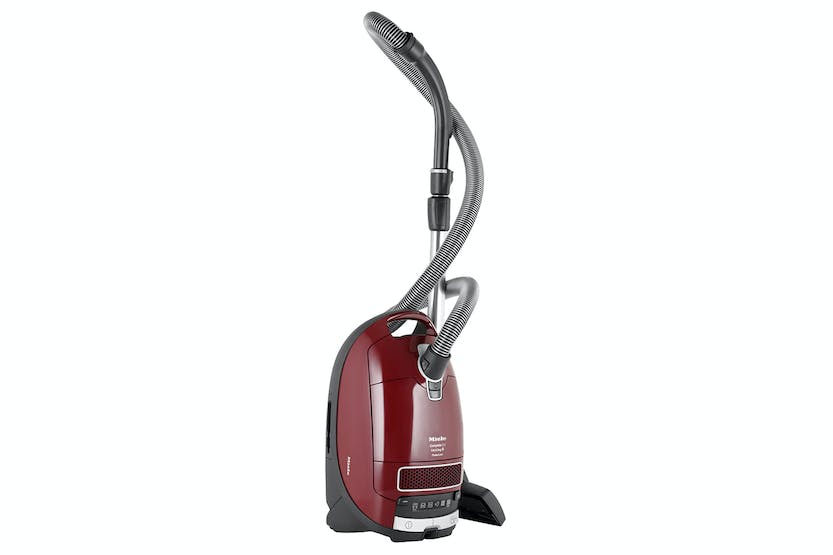 Miele Complete C3 Cat&Dog Pro PowerLine Bagged Cylinder Vacuum Cleaner | C3CAT&DOG
Description
Incredibly Secure with Just One Click
Floorhead, suction tube and handle lock into each other with an audible fit. The parts all connect securely but can be easily disengaged at the touch of a button, for instance for attaching a different accessory.
Without Inconvenient Stooping
All Miele canister vacuum cleaners have power cords that are easy to rewind with a foot switch. Compact C2, Complete C3 and Blizzard CX1 models come with an added convenience feature requiring only one tap of the foot switch.
Always at Hand
Miele Canister vacuum cleaners are equipped with three high-quality, standard attachments: upholstery nozzle, crevice nozzle, and dusting brush. Depending on the model, the standard attachments are either integrated or on a Miele-exclusive VarioClip for easy access.
Protects Furniture and Walls
The Miele Complete C2 and Complete C3 vacuum cleaners are equipped with an all-round furniture protection strip. This protects both furniture and appliance in the event of accidental collisions.
Customized Working Height for Any User
The Comfort telescopic tube with its exclusive Miele design can be intuitively extended to the desired working height and locked into position. The larger diameter increases the air flow volume and thereby facilitates outstanding cleaning results. Small details, such as a rubber coating on the upper end, are very practical. If the tube is leaned against the wall, it does not slide down.
Easy Handling Without Tedious Stooping
The floorhead is simply hooked onto the rear of the vacuum cleaner, leaving the suction tube in a secure position ready for use again. Particularly intelligent: On select Complete C3 models, the motor switches off automatically in park position.
Product Features:
Pet odour filter
Lightweight design
Turbo brush floorhead
Electro brush socket
Illuminated power indicator
Locking system for floorhead and handle