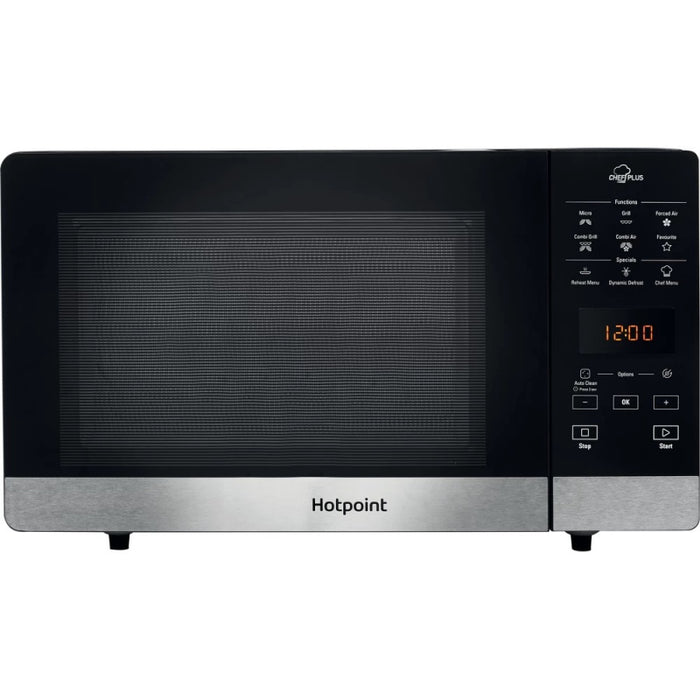 Hotpoint MWH2734B 800 Watt 23 Litre Microwave Oven and Grill Black
FEATURES
Forced Air
A powerful fan distributes heat evenly, delivering the same results expected from a traditional oven, so you can bake & roast in your microwave in much less time.
Auto Cooking Programs
The Automatic Cooking programs is the comprehensive range of preset recipes that allows you to prepare almost everything, from appetizer to dessert, by simply selecting the specific function. The microwave controls and automatically adjusts the cooking parameters according to the functions selected.
Quartz Grill
The Quartz Grill reheats and cooks your food faster than a traditional infrared grill. It is resource-efficient, reducing your energy costs, and entirely self-cleaning."
Multiwave Technology
Multiwave Technology ensures that every part of your food is reached, meaning no hot or cold spots & no need to stir throughout.
TECHNICAL SPECIFICATIONS
| | |
| --- | --- |
| Programs |   |
| Forced air | Yes |
| Defrost | Yes |
| Dynamic Steam | No |
| Crisp Fry | No |
| Crisp | No |
| Auto cooking programs | Yes |
| Dimensions |   |
| Cavity height (cm) | 22.2 |
| Width (cm) | 52.0 |
| Depth (cm) | 45.8 |
| Cavity depth (cm) | 33.1 |
| Height (cm) | 31.0 |
| Cavity width (cm) | 33.6 |
| Performance |   |
| Multiwave/Double Emission Technology | 3D |
| Maximum micro-wave power (W) | 800 |
| Grill power (W) | 900 |
| Cooking type | MW-Combi |
| Type of grill | Quartz |
| Structural features |   |
| Clock | Yes |
| Turntable diameter (mm) | 280 |
| Plug type | UK |
| Display type | Not available |
| Frequency (Hz) | 50 |
| Eco mode | No |
| Net weight (kg) | 18.4 |
| Home Net | No |
| Colour | Black |
| EAN code | 5016108959343 |
| Voltage (V) | 230 |
| Child lock | Yes |
| Capacity (l) | 25 |
| Number of power levels | 6 |
| Door opening mode | Hinged with handle |
| Type of control | Electronic |
| Hinge type | Not available |
| Accessories |   |
| Steamer | No |
| Baking tray | No |
| Grill grid | Yes |
| Crisp plate | No |