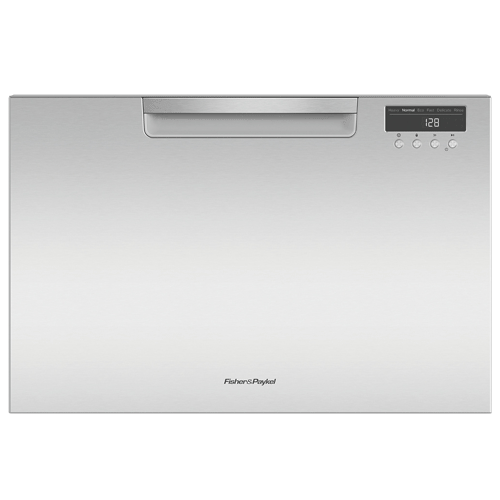 DD60SCHX9 6 Place Single DishDrawer. 5 years Parts & Labour
Fisher & Paykel Single DishDrawer™ dishwashers are designed to make doing the dishes easier than ever before. Sized to suit small kitchens and small loads.
How DishDrawer™ Technology Helps.
Independent Drawers = Variety of Loads
An independent drawer-based dishwashing platform is part of what makes the DishDrawer™ dishwasher unique. In DishDrawer™ Double dishwashers, both drawers operate independently so different wash cycles can operate simultaneously to accomodate a variety of loads.
SmartDrive™ Wash Mechanism = Better Dish Care
The unique brushless DC motor acts as both a wash pump and a drain pump, which means fewer moving parts and greater reliability. The spray arm rotates at different speeds depending on the wash cycle selected, to deliver a superior clean and better dish care.
Nine Wash Options = Comprehensive Washing
The range of settings enables the dishwasher to wash everything from fine glass and crystal to heavily soiled pots and pans at the touch of a button.